New LuLaRoe Lawsuit: Consultants Stuck With Thousands Of Dollars Of Worthless Clothing
by Valerie Williams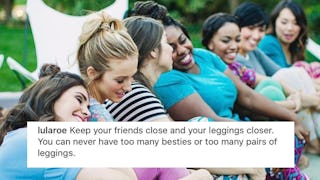 Image via Instagram/LuLaRoe
Consultants suing the company say they've spent thousands of dollars on clothes they can't sell
Two new lawsuits filed by LuLaRoe sellers allege that the company is a pyramid scheme, making most of its money off consultants who are forced to keep an inventory of clothing the company knows they won't be able to sell.
The lawsuits, filed on October 13 and October 23, both in US District Court for the Central District of California, accuse LuLaRoe of pressuring its sellers to maintain an insanely large product inventory, which means giving the company tons of money for clothes consultants might not be able to unload.
The October 23 lawsuit reads, "Consultants are instructed to keep around $20,000 worth of inventory on hand, and are inundated with the phrase 'buy more, sell more.' These incentives mean new consultants are aggressively pressured to continue purchasing wholesale inventory even when the inventory they have is not selling, is unlikely to sell, or is piling up in their garage."
The reason? To maintain their supply of product to sell. "Consultants were told that they should have at least 10 items in every size in all styles. This was purportedly the 'magic number' of inventory." The lawsuit also cites "manipulation and misinformation" on the part of LuLaRoe when it came to getting consultants on board to purchase their products for inventory.
The plaintiffs allege that they were encouraged to max out credit cards to the tune of thousands of dollars in order to keep their inventory fresh. And if that doesn't work? Sell your breastmilk, apparently.
That's Kim Roylance, LuLaRoe "mentor," and her husband explaining how consultants could hawk their pumped milk if they're having trouble coming up with the funds to maintain their "business."
The October 23 lawsuit states that consultants at the bottom of the "pyramid" were never going to succeed — and LuLaRoe knows it. "The vast majority of consultants sitting at the bottom of defendants' pyramid were and remain destined for failure and unable to turn any profit. Some resulted in financial ruin due to the pressure to max out credit cards and to take loans to purchase inventory."
"Plaintiffs and so many other consultants were never able to realize any actual profit and, as a result, they failed. They failed even though they were committed and put in the time and effort. They failed because they were doomed from the start," the lawsuit reads.
One plaintiff in the October 23 lawsuit, Cheryl Hayton, says she invested $6,000 of her savings to start her business, but with so many consultants signing up, the market was drying out and she had trouble selling any of it. "Plaintiff Hayton faced great challenges selling Defendants' products. The market had simply become too saturated with consultants who were trying to move the inventory they were perpetually purchasing."
And that's because consultants are encouraged to get new sellers signed up under them to form their "downline," which in turn, makes them more money. Thousands of people selling a product and those "upline" from them profit from their "investment" in the company while they sit on inventory that won't move.
How is this not a pyramid scheme?
And that's where the company's recent return policy change comes into play. In April 2017, LuLaRoe offered to let consultants who want to go out of business return any unsold inventory for a 100% refund, even covering their shipping fees to send the merchandise back. In September, that policy abruptly changed back to their previous one that states unsold inventory will only receive a 90% refund when returned, and shipping fees are to be covered by the consultant.
This resulted in many women being saddled with thousands of dollars in clothing they were unable to sell — or, return without losing money. The policy change also disallowed returns on seasonal items and any clothing not in its original packaging.
Stella Lemberg, a plaintiff in the October 13 lawsuit, says she was pressured to buy up tons of inventory with the promise that she could return anything that wasn't selling. "Ms. Lemberg currently has approximately $20,000 worth of inventory, over 1,000 items of LuLaRoe clothing, in her possession, which have now been subject to LuLaRoe's 'policy change,' depriving Ms. Lemberg of the ability to return any of her inventory and her right to a 100% refund for that inventory along with shipping costs," the lawsuit reads.
For LuLaRoe's part, they claim in a statement that they revoked what they called a "temporary" change to the policy because consultants were taking advantage of it. "We decided to end the waiver when it became evident that a good number of retailers were abusing the program by returning product in extremely poor condition and providing inaccurate claims, as well as retailers using it as temporary solution to struggles in their business."
Several plaintiffs in the lawsuit say they were drawn to LuLaRoe because of the company's women-friendly vibe and thought this would be the solution to their family's money problems.
Turns out, it only made them worse.
This article was originally published on