LuLaRoe Leggings Keep Ripping For No Apparent Reason, And We Are Done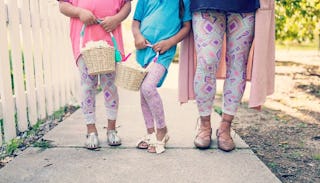 Facebook.com/LuLaRoe
Unless you've been living under a rock, you've undoubtedly heard of the LuLaRoe leggings craze. Known for buttery-soft fabrics and bright, eccentric patterns, these leggings are much sought after by millions of women.
And we all know the drill when it comes to trying to buy a piece of buttery-soft goodness: annoying Facebook groups, low inventory on highly popular patterns, and a $25 price tag. I've known grown women who have almost come to blows over pizza wedge leggings. No lie.
When I first wrote about LuLaRoe in the fall, admittedly, I'd never worn a pair of these magical leggings. But thanks to some internet strangers who happened to be awesome LLR consultants, I was lucky enough to have a few pairs sent to me, so that I could try them out for myself. I was even sent a "unicorn" (for those of you not in the LuLaKnow, "unicorn" is used to describe hard-to-find patterns) — a solid black pair of leggings. Score. I have since purchased several other pairs, and while I only wear them inside my home, I do love how soft and comfy they are.
Sadly, my black LuLaRoe unicorn leggings turned out to be a dud. After just a wash or two (per the instructions), there are holes in the crotch seam. Because the black leggings are next to impossible to find, I haven't been able to replace them or return them for another pair.
Even if I did have the time to search through thousands of Facebook groups to find a consultant who could handle my exchange, the hassle of wrapping up my leggings, dragging my kids to the post office, and paying a postage fee is just too much freaking hassle for a pair of leggings.
And I'm not alone. Every time we discuss LuLaRoe, our comment section isn't only filled with women who love to Roe or who vehemently defend all MLM strategies. It is also constantly pegged with comments from women who are completely bummed out because their LuLaRoes didn't survive a single trip to the washing machine. Some of them have tiny holes forming before they ever hit the spin cycle.
Comment after comment about poor quality and annoying return policies have always made me raise my eyebrows about LuLaRoe and their shady MLM business practices. And don't jump down my throat about supporting women, I fully recognize this is not the fault of the consultants. This is a corporate issue. They cannot be blamed because their is a major quality control issue within their company. Someone, somewhere, decided to cut corners to keep up with demand. The consultants are victims of LuLaRoe's tactics too. It's bullshit all around.
Our own associate news editor, Valerie Lynn, was quoted in a Business Insider article as saying: "These pants rip like wet toilet paper." And she should know because she was fast becoming a LuLa hoarder, and now she's retired from her side job of tracking down all of her "unicorns" (like wolves and s'mores) because the leggings don't hold up.
There are thousands of dissatisfied LuLaRoe customers who have banded together in a Facebook group devoted to voicing their complaints. And two customers have taken it one step further: They have taken legal action against LuLaRoe for knowingly selling defective leggings. In their lawsuit, filed in California, plaintiffs Julie Dean and Suzanne Jones are taking LuLaRoe to task for improperly marketing their leggings to the millions of women who handed over hard-earned cash (and spent god knows how long trying to figure out how to just freaking purchase them) to own the comfy leggings. If their lawsuit is successful, the outcome will affect anyone who purchased LuLaRoe leggings after March 31, 2016.
Here's hoping Ms. Dean and Ms. Jones can get a leg up on a company that is clearly exploiting women, consultants, and customers alike.
This article was originally published on