LuLaRoe Is Firing All 167 Of Its Warehouse Employees 5 Days Before Christmas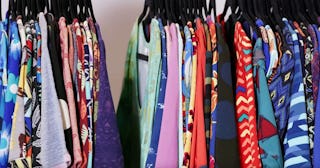 VICE/Youtube
After years of legal trouble, LuLaRoe is closing up shop in California
It's been a rough few years for LuLaRoe, the direct sales company known for signing up droves of women to sell first patterned leggings, and later, other types of clothes. After legal and financial trouble and a number of lawsuits, the company is closing its Corona, California, distribution center and announced that all 167 employees there will be laid off just five days before Christmas.
The news came from a letter LuLaRoe sent to the Employment Development Department of California (EDD) under a state law that says companies have to inform both the EDD and all affected employees at least 60 days before a "plant closing or mass layoff."
"Understanding the significant impact this decision would have in the lives of so many families and the local community—this decision was not made lightly; and was a sole effort to meet the immediate and long term business and operational demands needed to continue pioneering the social retail industry," a LuLaRoe spokesperson told reporters, adding that the company is helping connect its employees with staffing agencies, "knowing they will continue to succeed and shine on the road ahead."
According to the letter, every single employee at the Corona warehouse will be affected. After closing that center, LuLaRoe will move all shipping operations to its existing distribution center in South Carolina.
This news comes after LuLaRoe has had a tough few years, both legally and financially. After initial booming success in sales, the multi-level-marketing structure the company uses started to unravel, leaving dejected consultants in its wake who started filing lawsuits, claiming the company had roped them into what amounted to nothing more than a "pyramid scheme." Women started speaking out about how they were forced by LuLa to take on thousands of dollars — and sometimes even tens of thousands — in debt to buy product that was defective, damaged, or unsellable, and then they said the company left them high and dry with no way to return unsold merchandise and recoup their losses.
News of consultants being forced to file for bankruptcy started hitting headlines, and more and more former LuLaRoe sellers filed and joined class-action lawsuits. Amid all that, Providence Industries, LuLa's main supplier, sued the company last year for $49 million, claiming it hadn't been paid for clothing it produced.
And while lawsuits against LuLaRoe have stacked up, the company made headlines for filing its own lawsuit against an anti-MLM blogger. With consultants still waiting for justice and late paychecks, this was definitely not a good look.
The California warehouse workers are just the latest people to be burned by this company's predatory practices, but hopefully, they'll be among the last.