Field-Tested Tunes That WILL Get Your Baby To 'Go The Bleep To Sleep'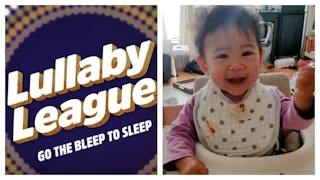 youtube.com
Ah, bedtime: the twilight hour when drowsy babies everywhere are tucked lovingly into cribs and encouraged to drift into a peaceful slumber.
Only … they don't. Because babies have zero freaking idea what an amazing opportunity this is, and how we – their weary parents – would give anything to be in their position.
Babies just don't appreciate the value of sleep. They don't know how lucky they are that someone is providing them with a comfy bed and literally encouraging them to stay in it for as long as they can. They have no clue what they're taking for granted, being able to go to sleep without wrapping up this chore and that chore first, and then lying there for an hour pondering bills and schedules and oh crap I forgot to put the wet clothes in the dryer.
Instead, they rail against sleep with all their might, like it's some kind of punishment doled out by their sadistic caretakers – yet we're the ones who end up the most exhausted.
Enter Scary Mommy's Lullaby League, a singing competition with some of the toughest judges of all: bedtime-battling babies and the desperate parents who just want them to go. the bleep. to sleep.
In this gentle-but-ambitious race, hosted by Jim O'Heir of Parks and Recreation, various acapella groups use their honeyed harmonies to get these a-holes to ZZZZZ. The group who sends the babies to dreamland in the least amount of time will win a coveted recording contract. Now that's a bedtime victory.
Wanna recreate this soothing scenario at home (minus the group of musicians huddled in your hallway, of course)? Now any baby can have the benefit of an acapella serenade via the Lullaby League soundtrack (Season One: Soothe Operators), which is available now on iTunes and Spotify.
And, parents, we NEED this in our bedtime arsenal. After all, these tunes have been field-tested, proven to tranquilize even the most tenacious tots in mere minutes with their dulcet-toned melodies. With lyrics like "your mom's the best, let her rest," and "cut the crap, it's time to nap," these lullabies are as clever as they are calming – so we can enjoy them as much as our babies do.
Bonus: if you've got an Emma, Frida, Sky, or Grace, they'll hear their names in songs like "Sleepy Emma" and "Skybird." It's like getting them a personalized album. Best of all, the proceeds from iTunes go to March for Our Lives.
The Lullaby League soundtrack is music made by people who want our babies to go to sleep as much as we do – maybe even more. After all, their chance at a huge recording contract is riding on it. They're musicians on a mission, bringing out their best so we can get some rest.
How does it feel to be one click away from an easier bedtime? Fa-la-la-la-fabulous.
Download now on iTunes: https://itunes.apple.com/album/id1374099496?ls=1&app=itunes
Download now on Spotify: https://open.spotify.com/album/0ukPD2TwYeoK6yCtpWKRye?si=mSKHEV5iT0aGKfvuldBoKw
Hear what our real-life Scary Mommies, Keri and Ashley, have to say about this when they give their (always real) thoughts in this episode of our Scary Mommy Speaks podcast.
This article was originally published on