Lupita Nyong'o's Children's Book 'Sulwe' Will Soon Be Animated Netflix Musical
by Valerie Williams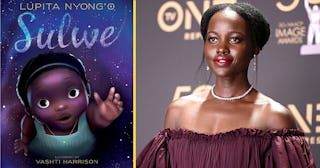 Amazon and Rich Fury/Getty
Lupita Nyong'o's best-selling children's book is coming to Netflix soon as an animated musical
Lupita Nyong'o wrote a gorgeous children's book in 2019 called "Sulwe" and today we bring the exciting news that it's about to hit our Netflix screens in the form of an animated muscial. Based on Nyong'o's New York Times-bestselling book with illustrations by Vashti Harrison and with Nyong stepping into the role of producer, the animated version of the book will bring little Sulwe to life onscreen.
"Sulwe is going to be an animated movie!! 💜✨🎬Thank you to the readers of all ages who have joined #Sulwe on her starry ride. I'm so excited for this next adventure on @Netflix!" the actress and author wrote in an Instagram post sharing the news.
"Sulwe has skin the color of midnight," the book's summary reads. "She is darker than everyone in her family. She is darker than anyone in her school. Sulwe just wants to be beautiful and bright, like her mother and sister. Then a magical journey in the night sky opens her eyes and changes everything."
"This is 5-year-old me. I reflected on this little girl's feelings and fantasies when I decided to write my children's book, #Sulwe. With this book, I wanted to hold up a mirror for her," Nyong'o wrote of her reason for writing the story. "Here's why: As a little girl reading, I had all of these windows into the lives of people who looked nothing like me, chances to look into their worlds, but I didn't have any mirrors. While windows help us develop empathy and an understanding of the wider world, mirrors help us develop our sense of self, and our understanding of our own world. They ground us in our body and our experiences."
"The story of Sulwe is one that is very close to my heart. Growing up, I was uncomfortable in my dark skin. I rarely saw anyone who looked like me in the aspirational pages of books and magazines, or even on TV," she says via a press release from Netflix.
"It was a long journey for me to arrive at self-love. Sulwe is a mirror for dark-skinned children to see themselves, a window for those who may not be familiar with colorism, to have understanding and empathy, and an invitation for all who feel different and unseen to recognize their innate beauty and value. I am thrilled that the book is being adapted into an animated musical that we hope inspires children all around the world to celebrate their uniqueness."
We don't know yet when the animated musical will be released, but in the meantime, feel free to enjoy Nyong'o's episode of Bookmarks on Netflix where she reads the story out loud for little ones.
This article was originally published on