Lupita Nyong'o Shares Gut-Wrenching Harvey Weinstein Story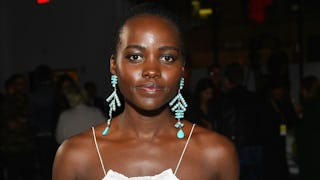 Image via Dia Dipasupil/Getty Images
The actress tells of her disturbing encounters with Weinstein
Oscar-winning actress Lupita Nyong'o is the latest actress adding her name to the list of women accusing Harvey Weinstein of sexual harassment or assault, and her story was published this week in The New York Times. She wrote it herself, and the account is both powerful and disturbing.
After hearing stories about Weinstein, she could no longer stay silent. "I have not been able to avoid the memories resurfacing. I have felt sick in the pit of my stomach."
Nyong'o first met the disgraced mogul in 2011 at an awards ceremony in Berlin. She was still a student at the Yale School of Drama at the time, and Weinstein, of course, was someone any aspiring actor would've wanted to meet.
She quizzed her companions that evening about the producer and was given advice on how to deal with him. "A woman who was a producer herself cautiously advised me to 'keep Harvey in your corner.' She said: 'He is a good man to know in the business, but just be careful around him. He can be a bully.'"
Despite his insistence that she drop the proper "Mr. Weinstein" and call him Harvey, Nyong'o wasn't particularly alarmed by their first meeting.
Their second encounter was another story.
Shortly after Berlin, Weinstein invited the actress to his home in Westport, Connecticut to view a film. He sent a car for her and as it turned out, Weinstein had ordered the drive to take Nyong'o to a restaurant where the pair would have lunch before going to watch the movie. He managed to make things uncomfortable right off the bat.
Weinstein ordered a vodka and diet soda for himself, but Nyong'o didn't want alcohol. "I asked for a juice. Harvey was unimpressed with my choice and told the waiter to bring me a vodka and diet soda instead. I declined and said I wanted the juice."
"We went back and forth until finally he turned to the waiter and said, 'Get her what I tell you to get her. I'm the one paying the bill.' I smiled and remained silent."
She only sipped her water as the vodka drink sat untouched. Weinstein told her she "needed" to drink it, but she refused.
"'Why not?' I remember him asking. 'Because I don't like vodka, and I don't like diet soda, and I don't like them together,' I said. 'You are going to drink that,' he insisted. I smiled again and said that I wouldn't. He gave up and called me stubborn. I said, 'I know.'"
They headed for his house after lunch where things got much worse. It was there that Weinstein told the actress follow him to a private bedroom once his kids and household staff had settled in to watch the movie. Nyong'o was watching it too and begged him to let her stay, but he insisted she go with him. Not wanting to fight in front of his kids, she agreed.
"Harvey led me into a bedroom — his bedroom — and announced that he wanted to give me a massage. I thought he was joking at first. He was not. For the first time since I met him, I felt unsafe."
Thinking quickly, she offered to give him a massage instead hoping it would help her stay in control of the situation somewhat and give her time to think of a way out. That's when he decided he wanted to take off his pants, despite Nyong'o telling him not to.
"He got up anyway to do so and I headed for the door, saying that I was not at all comfortable with that. 'If we're not going to watch the film, I really should head back to school,' I said." He again told her how stubborn she was but agreed to let her go, his driver taking her home.
Although what happened made Nyong'o uncomfortable, she did her best to rationalize it. "I didn't know how to proceed without jeopardizing my future. But I knew I would not be accepting any more visits to private spaces with Harvey Weinstein."
Their next meet-up was uneventful and Nyong'o thought maybe he had learned her boundaries and would respect them, but a few months later, she realized that wasn't the case.
She saw Weinstein at a film screening and afterward, met him at the Tribeca Grill where she thought they would be dining with a group. Turns out, it was just the two of them again. This time, he didn't beat around the bush. After she once again annoyed him by ordering a non-alcoholic beverage, he propositioned her.
"He announced 'Let's cut to the chase. I have a private room upstairs where we can have the rest of our meal.'" She told him no and he chided her for being naive telling her if she wanted to be an actress, she "had to be willing to do this sort of thing."
After she turned him down, he said "You have no idea what you're passing up," to which Nyong'o replied, "With all due respect, I would not be able to sleep at night if I did what you are asking, so I must pass."
At this point, she thought he wrote her off. He made comments suggesting her career might be damaged by her refusal to comply with his demands, but she couldn't be sure what he meant. They didn't see each other again until 2013, after her Oscar-winning turn in the film 12 Years a Slave, where he apologized for how he had treated her in the past. She thanked him, but left it at that.
What followed were offers for work with The Weinstein Company, star roles that she didn't feel she should take considering her past experiences with the producer. After her continued refusal to work with him, he finally left her alone. And that was the last of her dealings with Harvey Weinstein.
Nyong'o explains that she's sharing her story now because she had no idea she wasn't the only one being harassed by him. She was also convinced that no one in their world of filmmaking would care. She says she thought, as Weinstein once told her when she wouldn't go to a private hotel room with him that this was "just the way it is."
Now, with so many fellow actresses speaking out, Nyong'o wants to move past the idea that any woman should feel shame and remain silent, which only allows abuses like what she experienced to continue. "I wish I had known that there were women in the business I could have talked to. I wish I had known that there were ears to hear me. That justice could be served. There is clearly power in numbers."
"I hope we can form a community where a woman can speak up about abuse and not suffer another abuse by not being believed and instead being ridiculed. That's why we don't speak up — for fear of suffering twice, and for fear of being labeled and characterized by our moment of powerlessness," she writes.
She concludes her essay by encouraging women to keep telling their stories in hopes that one day, there won't be anymore stories to tell.
"Now that we are speaking, let us never shut up about this kind of thing. I speak up to make certain that this is not the kind of misconduct that deserves a second chance. I speak up to contribute to the end of the conspiracy of silence."