Mom Creates Kid-Friendly Way To Learn About Money — And It's Genius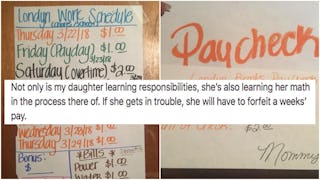 Image via Facebook/Lynn Brooks
This mom's financial lesson to her daughter is completely brilliant
Remember when you first started earning a paycheck and had to learn how to budget and save and it was maybe all a slight disaster? Well, one young girl is probably going to have zero issues with financial accountability because her mom figured out a genius way to teach her about budgeting.
You're going to want to copy this parenting trick ASAP.
Lynn Brooks took to Facebook to share the brilliant way that she's been teaching her daughter Londyn about money and responsibility. First up, there's a poster board with a work schedule, which includes chores and school. Londyn earns $1 a day, and gets "overtime" rates on the weekends and bonuses when she gets good grades in school.
She receives a weekly paycheck.
But let's not forget about contributing to the bills, which are taken out of her paycheck (but actually goes straight into her savings account).
Londyn also has a little shopping center, where she can buy items that she likes — but — Brooks noted, "she isn't allowed to buy more than what she can consume each day over a weeks period of time."
Annnnd here's the vault, where all her deposits are kept. Please note the adorable sign that declares: "saving is fun."
Brooks said that her daughter has been learning a ton since this whole project started.
"I saw this from a Mom through Facebook," she wrote. "I was inspired to create something based off of her idea. Not only is my daughter learning responsibilities, she's also learning her math in the process thereof. If she gets in trouble, she will have to forfeit a weeks' pay."
Meanwhile, it looks like plenty of other parents have now been inspired by Brooks. Probably because it's a brilliant idea and shows kids the tools they need to be able to handle money like a pro when the times comes. Something many of us could have probably used before our first trip in the Adulting Rodeo.
"I didn't realize what a special project this could be not only for us but for many," Brooks says. "My daughter is confident, learning, and is improving so much. It's borderline bribery, however, we ALL feel great when we get rewarded and being acknowledged for doing a great job. Make this project your own. It's fun."
This article was originally published on