Lynn Cohen, 'Sex And The City' Actor, Dies At 86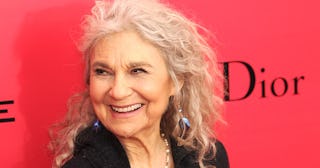 Dimitrios Kambouris/WireImage/Getty Images
Veteran actor Lynn Cohen, known for her role as Magda in 'Sex and the City,' passed away on Friday
Veteran stage and screen actor Lynn Cohen has died; the actor best known for her role as Magda on HBO's Sex and the City was 86. Cohen passed away the morning of Friday, Feb. 14, her representative confirmed to The Hollywood Reporter.
In addition to playing Mags in The Hunger Games: Catching Fire, Cohen had roles in films such as Across the Universe, Munich, and Eagle Eye, as well appearances on TV shows Law & Order, The Marvelous Mrs. Maisel, Nurse Jackie, Master of None, and Blue Bloods, among others.
"It's what I look for in any work I do, is not to have women a cliché," Cohen told AZCentral in 2016 of her character, Rose, in The Pickle Recipe. "I mean, this woman is so strong, and she's fought all her life and she'll fight to the day she dies, whether it's for her work or the people she loves. She wants to make sure, 'When I leave this world, I'm leaving it with a couple of good people behind me.'"
Cohen was also a Broadway actor, appearing in Orpheus Descending and Ivanov. She later went on to appear in regional productions of Twelve Angry Men, Macbeth, and Hamlet. Cohen also received Lucille Lortel and Drama League award nominations, the New Dramatists' Bowden award, the Fox Foundation's Lilly award, and the Richard Seff award from Actor's Equity Association.
Cohen was born in 1933 in Kansas City, Missouri and studied at Michael Howard Studios in New York City. She then started her acting career in 1983 on Without a Trace.
But it's her role as Magda, a Ukrainian housekeeper and nanny for Miranda Hobbes (played by Cynthia Nixon) and her family, on SATC, for which she'll be widely — and fondly — remembered.
"The writing was very bright, very smart, and more than that, a recognition of women's intelligence," Cohen told Cosmopolitan in 2018. "It showed a woman of a different age who was smart as the devil, very bossy, and also understood sexuality, and they needed that. It enlarged the canvas on which they were working, that they would not have a typical old lady molding away in some retirement home somewhere, but a woman who worked, and didn't suffer fools."
Cohen is survived by her husband, Ronald Theodore Cohen; they got married on June 3, 1964.
"I live with a man (Cohen) who's also a writer, a director and an actor, so I live with a man who's an artist. He just wants me to never say no," Cohen said in 2016. "If it's a message I don't believe in, there's no amount of money that can make me do it."