MAC Is Giving Away Free Lipstick This Weekend -- Zero Strings Attached
by Thea Glassman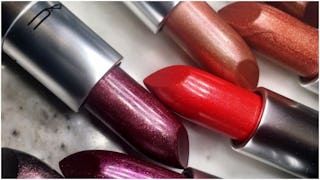 Image via MAC/Instagram
MAC is giving away free lipstick and life just got so, so good
A tube of pretty lipstick can make you feel confident, bold, and marginally less cranky. A free tube of lipstick, however, is literally a gift from the makeup gods. For one day, and one day only, MAC is giving away lipsticks for zero charge at all. No, this is not a prank.
Sunday, July 29th is National Lipstick Day, and MAC is celebrating by giving away nine different shades of lipstick for free. All you have to do is head to your nearest MAC or Ulta Beauty store and put out your hand. It's really that easy. Except, you might want to get there super early because lines are notoriously long for this promotion and supplies definitely won't last.
If you're skeptical that the makeup brand is only going to be giving out the ugly colors (seriously WHO can rock those purple lipsticks?), never fear. The options are actually very, very pretty, punchy, and sleek. You can choose from: Aloof, Delish, Dare You, Moxie, Florabundi, Epic, Mixed Media, Chintz, and Tanarama.
Picture proof below.
Each tube retails at $18.50, which means you can put that money towards something a little more practical. Like, gas or food or maybe a very, very quick trip to Sephora afterwards (I mean, National Lipstick Day is an all-day celebration).
If there's no way you have time to make it to a MAC store this weekend or the idea of standing in that massive line horrifies you (fair), there are a few other options for nabbing one of those free shades. Head to the makeup brand's website on July 29th, place an order on anything $25 and up, and you'll get to pocket one of those nine shades of lipsticks as a freebie.
You can also exchange your old lipsticks for free ones through the Back-to-MAC program. Bring in six empty tubes and go home with one lipstick of your choosing. This is a year-round thing, and is terrific motivation to start using the crap out of all those miscellaneous lipsticks you have just lying around.
Happy National Lipstick Day, everybody. And remember, life is short. You can and should pull off that ridiculously bright pink Frost shade.