Macy's Will Not Have A Santa At New York Store For First Time In 160 Years
by Julie Scagell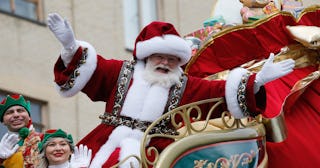 Gary Hershorn/Getty Images
For years, many of us have brought our kids to Macy's department stores to see Santa, but this year, because of the pandemic, the New York City store's Santa will be calling in virtually for the first time in Macy's 160-year history.
In New York City's Herald Square, Santa draws crowds of over a quarter million every year during the holiday season. With those numbers and a pandemic that is seeing record number of daily positive cases again, Macy's made the difficult decision to make Santa's visit a virtual one this year.
"At Macy's, the safety of our customers and colleagues is paramount," said Susan Tercero, Macy's vice president of branded entertainment, in a statement to CBS News. "To replicate the magical experience of visiting Macy's Santaland for children and their families, we will shift to a virtual engagement this year. For many, visiting Santa at Macy's has become a long-standing highlight of the holiday season. Macy's is delighted to have found a way to ensure even more families can enjoy this treasured experience safely during this festive time of the year."
At the Minneapolis location, it was a given each year that we'd bring our kids to the maze-like "Santaland" experience. Each year, the entire eighth floor would have a new holiday-inspired theme that felt like you were walking through the pages of a book. It was a day to look forward to, for sure. But because of its popularity, it was jam-packed with people and would be impossible to create social distancing and therefore like so many things in 2020, the Santaland maze will also be canceled at the New York store.
Macy's will be offering a free online experience on its website from November 27 to December 24. Families can play games, get a virtual tour of Santa's workshop, and even take a selfie with Santa. Santa appearances at Macy's Chicago and San Francisco stores will also be canceled, according to the AP
"Moving to a virtual engagement will safely bring the magic of Santa Claus to children of all ages this year," Macy's said in a statement to The Associated Press.
The department store has featured Santa Claus in its branding since the 19th century, and he had a starring role in the 1947 film Miracle on 34th Street. Though Santa won't walk the halls of the department store, he will be making an appearance in the Macy's Thanksgiving Day parade. The parade itself will also be altered due to the pandemic and won't run through its usual route through Manhattan. Instead, the beloved floats, performers, and giant cartoon balloons and will be filmed for TV in front of the Herald Square store in New York.
"It will not be the same parade we're used to," said New York City Mayor Bill de Blasio at a news conference announcing the change. "It will be a different kind of event. They're reinventing the event for this moment in history."
2020 even came for Santa this year. I think I speak for everyone when I say this year cannot be over fast enough.
This article was originally published on