Madonna Posts Jaw-Dropping Lingerie Pics Amid Photoshop Accusations
by Christina Marfice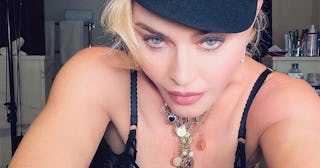 Madona/Instagram
Madonna is living proof that if you've got it, you should definitely flaunt it
There's nothing Madonna knows how to be except Madonna. Her decades-long career has certainly proved that. And over the weekend, she proved it again with the series of extremely racy lingerie photos she posted to Instagram. The images are being shared a few weeks after a woman accused the legendary pop star of Photoshopping her own head onto a photo of the woman's body.
"And Now For A Moment of Self Reflection," Madonna wrote alongside a carousel of three photos. She signed off, "Madame [X emoji]."
In the photos, Madonna is wearing a very small, very strappy black lingerie set, and a matching vintage biker cap. She didn't say when the photos were taken, but the caption definitely seems to be in reference to her alter ego from her 2019 album, Madame X. Does this mean we're getting a follow-up Madame X album? We can only hope.
For now, though, the photos are making some of the singer's most famous friends incredibly thirsty. Some of the comments from Madonna's celebrity followers include just five fire emojis from Kelly Ripa, and a message from Snoop Dogg that reads, "I need u," followed by an emoji of a sparkling heart.
Who can blame the celebs for being thirsty? All us normal people are, too. Madonna looks incredible in these photos. She's the actual human embodiment of the phrase, "If you've got it, flaunt it," and if Madonna doesn't "got it," then who even does?
Madonna's photos do come at kind of a strange time for the singer, though. Earlier this month, Amelia Goldie, an Australian woman, released a viral Tik Tok in which she accused Madonna of photoshopping her own face onto a photo of Goldie's body for an Instagram post in 2015.
"When Madonna posts a photo of herself to IG to promote her album but its actually your body (I'm not joking)," Goldie wrote in the clip, which compared Madonna's 2015 post to a photo Goldie has of herself, sitting in an identical pose and wearing an identical outfit. Goldie said she's reached out to Madge's team, but hasn't heard anything back yet.
Are Madonna's new photos a direct response to the Tik Tok scandal? Who knows. That weird saga may not be over yet. All we know right now is that Madonna looks great, and we support any woman celebrating her body in any way.