Mom Takes Her Son To Job Interview, Sends Powerful Message About Working Moms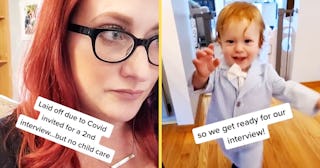 314handcrafted/TikTok
Finding a job is tough. Finding a job in a COVID world is tougher. Finding childcare for your toddler when you are interviewing for a job is the toughest. But Maggie Mundwiller of St. Louis found a pretty adorable solution to the interview problem: she took her son, Mylo, along for the meeting, and produced the cutest TikTok to document the experience. The viral clip has more than 9 million views and has catapulted this tiny tot and his brilliant momma to online fame.
Mundwiller told Scary Mommy that she got the idea to take Mylo along to the interview because the company said that they were child friendly. "I was inspired to dress Mylo up for an interview, just like I was going to do. I called my husband, and we brainstormed ideas for Mylo's resume. I have been enjoying TikTok for a few months and thought it would be something fun to post. I never anticipated all of the amazing support!"
The support that she has received goes far beyond that of people doting on her adorable son. People are thanking Mundwiller for being an example for moms who are reentering the workforce after being displaced by COVID and those who are starting back at a career after being a stay-at-home parent. One follower said, "This is amazing! I think I'm going to see if this is something I can implement as I am the head of HR where I work."
Mundwiller feels that employers are beginning to open their eyes to different workplace strategies and environments. "I believe that there are some employers who get it. I believe that there are others who aren't willing to step outside of the box to accommodate valuable employees who are trying to do their best and have a family. There is room for improvement as you can see by all the comments on my TikTok. I am hoping this TikTok will inspire employers across the U.S. to take a look at their culture and make changes to better partner with valuable employees who are also parents."
Amen to that! Being a parent is the toughest job there is, and balancing that with a career can be an unbelievable task. When you have an employer who can understand what raising a family is like, and give a little grace, you are incredibly lucky.
And Mundwiller is correct. Now is the time to embrace some of that out-of-the-box thinking. Even two years ago, who would have thought that there would be millions of Americans working from home? Zoom meetings and being professional from the waist up and in your jams on the bottom is the new normal. People are happy, and some say, more productive.
Apollo Technical reports on a Stanford study that shows working from home is indeed successful:
"A study by Stanford of 16,000 workers over 9 months found that working from home increased productivity by 13%. This increase in performance was due to more calls per minute attributed to a quieter more convenient working environment and working more minutes per shift because of fewer breaks and sick days. In this same study workers also reported improved work satisfaction, and attrition rates were cut by 50%."
Those are big numbers, and employers like what they see. These dynamic workplace shifts are producing positive results. Who can complain about that?
Mundwiller said that the response to her TikTok has been truly shocking. She expected family and friends to get a kick out of Mylo's antics, but certainly not millions of people. She said that she had 62 followers when this all began and now she has upwards of 32k. The whole experience has been surreal. She is thrilled that this platform has given her a chance to speak her truth. "I am so humbled that so many people are identifying with my video. It is validating to know I am not alone and to see so many people who are ready for this shift in the workplace."
And while the interview process is ongoing, she declined to name the company; she is excited about her future. She also has a bit of advice for job seekers today. "Be your true self in everything that you do. I feel like there is the strange side of the professional world that expects you to be a certain way. You will likely go further by being authentic. Interview companies just as much as they are interviewing you."
Many have lauded Mundwiller for her creativity and tenacity and have said that any company would be lucky to have her. She has been laid off and looking for employment for more than a year. During her job search, she wasn't particularly looking for a "child friendly" employer. She just kind of got lucky. But having been in this situation, she hopes that other employers will open similar opportunities for potential employees.
Mundwiller concluded with a powerful message for women, "I think this is also an opportunity to talk about women in the workplace who have had to stay home to care for their children in general. I worked so hard with the same company for several years before being laid off. I felt like I was making a difference, in a leadership position, as a woman in the workplace. Statistically, the progress that was made towards equality in the workplace has been stunted, and even reversed, by the impact of Covid and the decisions of employers. I am hopeful more women will return to work and get back to breaking the glass ceiling."
Fun fact: this is not the first time that Mundwiller's creativity has put her and Mylo in the news. He was featured locally last year when she presented him to his grandparents through the window so that they could meet their newborn grandson born in a COVID world. Mundwiller and Mylo have been making creative and special memories since day one. She is one smart cookie. So we say, congrats to you and your adorable little guy. We know that no matter where you land, they will be lucky to have someone ready to kill it — not just as an employee, but as a strong working mom.
This article was originally published on