You Can Now Be Treated Like Cinderella On Your Wedding Day, Thanks To Disney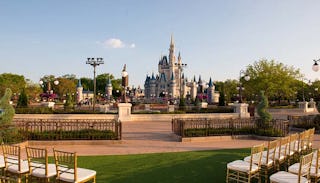 Disney World announces Magic Kingdom wedding at Florida park
Who doesn't want to be treated like a princess on their wedding day? Now you can, literally. Your fairy tale in the form of a Magic Kingdom wedding in front of Cinderella's Castle can now be a reality.
Cinderella's horse-drawn carriage? Check. Royal coachmen? Check. Trumpeters announcing your arrival? Check. Your groom even arrives in a vintage jitney. Move over Vera Wang. All Disney needs to do is get into the gown business and they'll have the market cornered.
"Brides will be able to live out a fairy tale dream like no other," said Korri McFann, marketing director for Disney weddings. Carriages and a castle will certainly make the nuptials more enchanting and memorable. The theme park recently renovated the garden after receiving tons of requests from Disney fans to create a wedding venue that incorporated the famous castle.
It is unclear how much a full wedding will run newlyweds, but according to USA Today customized Magic Kingdom ceremonies start at $75,000. At this point, guests are capped at 100 and 9:30 a.m. is the only available ceremony time. I won't be surprised to see self-proclaimed Disneyholics save for the unique event that makes fairy tales come true. Couples in the United States spent an average of $31,213 on their special day in 2014, according to The Knot, with many soon-to-be newlyweds shelling out much more. In fact, I'll be attending a wedding in one of the other Walt Disney World parks this November. Had the Cinderella Castle been available our friends would have likely jumped at the chance to wed with all the princess perks at the Happiest Place on Earth.
The Magic Kingdom alone has an estimated annual attendance approaching 20 million, so it isn't surprising that the park is adding additional ways to celebrate your wedded bliss. They've been offering various options for ceremony locales in their many parks for years. The price did deter at least one Oakland, California couple, who instead snuck their wedding in during a visit to Disneyland. They kept the guest list small at just 25 people and moved quickly and stealthy to avoid getting caught.
Whether you pay for the magical moments or sneak them in, Disney fanatics will cherish the day. A friend who attended the secret ceremony in California said, "This couple loves Disneyland; they're there three or four times a year at least. They'll visit again, very soon and very frequently and probably for the rest of their lives, so there will be plenty of opportunities to relive the memories."
This article was originally published on