Channing Tatum Confirms 'Magic Mike' Is Heading To Broadway
by Valerie Williams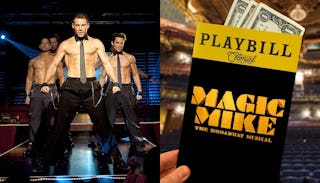 Image via IMDB/Warner Bros/Twitter/Channing Tatum
Channing Tatum just shared the exciting news that 'Magic Mike' is getting the Broadway treatment — and we can't wait
It's Friday and life was already pretty good, but now, it's great. That's because Channing Tatum took to Twitter to confirm that Magic Mike is about to become a Broadway musical.
We're just over here trying to breathe normally, but it's not happening. Pass me my smelling salts.
"This. Is. Happening. Get ready for Magic Mike… THE BROADWAY MUSICAL. World premiere at the Emerson Colonial Theatre in Boston this November. Tickets on sale TODAY," Tatum tweeted.
Don't mind us. Just trying to stay in control of our bodies and heart rates over here.
The 2012 and 2015 films about a crew of super sexy Florida strippers were partly based on Tatum's own experiences working as a stripper in Tampa way back in the day. A little upset I didn't somehow know to visit a bunch of Tampa male strip shows like 18 years ago, but that's just a disappointment and life regret I need to work through. The movies help. A little.
Tatum, apparently hearing our sighs and sensing the millions of lower lips being nibbled upon the release of the Magic Mike films, made dreams come true by opening Magic Mike Live, a steamy Vegas dance show based on the franchise.
The Broadway version of our literal dream come true promises to be "an outrageous new musical." The new show is being described as a prequel to the films, a "…sizzling stage spectacle tells the story of how the world's favorite stripping sensation first found his mojo." Also, Tatum is one of the producers so we know this will be 100 percent legit.
Getting excited yet?
According to Deadline, the stage version "tells the story of college-student-turned-male-entertainer Mike Lane. Struggling to make ends meet, Mike takes a job dancing at an exclusive night club… and winds up loving every minute of it. But as he scrambles to hide his alter ego from his dad and girlfriend, he finds himself needing to make some difficult choices. Can Mike follow his dreams without losing more than his clothes?"
For his part, Tatum is basically pinching himself that this is all happening. He tells Deadline, "When we were shooting Magic Mike, I looked at myself in a thong and thought: 'well Chan, say goodbye to your career!' So the idea that seven years later a Pulitzer Prize-winning creative team would be making a full-fledged musical prequel is definitive proof that God loves strippers. I couldn't be more excited about the next chapter in the Magic Mike story. So get ready, Boston. The road to Broadway begins on November 30!"
We're excited too, Channing. So, so excited.
An opening date on Broadway hasn't been set yet, but the first out-of-town run is coming to Boston at the Emerson Colonial Theatre, as Tatum's tweet notes. The show's previews begin November 30 with the official opening set for December 15. There are show dates on the calendar through January 5, 2020. You can purchase tickets here.
Will they take crumpled up $1 bills as payment? Asking for a friend.
Erica Lynn Schwartz, the general manager of the Emerson Colonial Theatre, sounds extremely pumped for the story to hit her stage. "We are elated to welcome Magic Mike into the Colonial's legacy of great musicals born in Boston. We made a commitment to reviving the city's pre-Broadway tradition in the new chapter of this historic building. There is such enthusiasm in our community for pre-Broadway works, and on the heels of the success of Moulin Rouge! last summer, we are thrilled to announce this next engagement."
Speaking of enthusiasm, we'll be over here fanning ourselves while watching both movies on repeat and trying not to pass out.