Group Makes Disney-Themed Yarn Wigs For Kids Fighting Cancer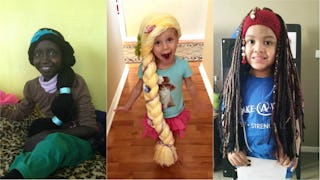 Image via The Magic Wig Project
The Magic Yarn Project is solving a little-known problem that comes with childhood cancer
A lot of people know of organizations that allow them to donate their hair to be made into wigs for kids who are fighting cancer. But the chemotherapy that causes those kids to lose their hair can also make their scalps too sensitive for traditional wigs. It's a little-known problem that the Magic Yarn Project is trying to solve.
The Magic Yarn Project, and Alaska-based nonprofit founded by Holly Christensen and Bree Hitchcock, creates adorable wigs for kids fighting cancer. Only their wigs are made out of yarn, making them soft and warm and perfect for kids who can't wear traditional wigs.
To make things even cuter and more fun, many of the wigs made by the Magic Yarn Project are Disney themed. Kids can have the hair of all their favorite Disney princesses, from Frozen's Anna and Elsa to The Little Mermaid's Ariel and everything in between.
Christensen, a former nurse, got the idea for the organization when a friend's daughter, Lily, was diagnosed with cancer. Christensen knew Lily would struggle with losing her long, curly hair, so, inspired by the Anna and Elsa wigs she had crocheted for her own daughters to play with, Christensen made a Rapunzel wig.
"I thought this would be perfect for Lily — something that could comfortably cover her hair and something that could bring a little light into an otherwise difficult time in her life, allowing her to go back into the magical world of princesses and make-believe," Christensen told the Today show.
From there, Christensen planned to make a few more wigs for local kids. But a call on Facebook for donations went viral, and the Magic Yarn Project was born. She registered it as a nonprofit, and has since made thousands of wigs for kids all over the world.
And the Magic Yarn Project isn't just for princess fans. They also make wigs modeled after male characters, like Captain Jack Sparrow. There's even a Teenage Mutant Ninja Turtles option, which isn't exactly a wig, but is still a pretty styling way to keep a little head warm.
Wigs from the Magic Yarn Project are all free of charge for the recipients. Christensen and Hitchcock have a GoFundMe page to raise money for supplies, shipping costs and logistics, where they've already received nearly $70,000 of their $100,000 goal. All the wigs are crocheted by volunteers, and those who want to help can download patterns from the Magic Yarn Project's website. There are also workshops hosted by the founders and other volunteers, and any volunteer can sign up to host a workshop in his or her city.