It's Too Late To Mail In Your Ballot, But You Can Still Vote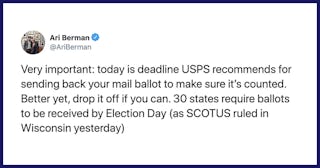 AriBernman/Twitter
Find out how to turn in your ballot so it's counted
The election is in a week (!), so if you were planning to drop your ballot in the mailbox… don't! According to the USPS, October 27 was the last day that they could reasonably advise returning your mail-in ballot by mail if you want it to arrive on time. Plus, on Monday night, the Supreme Court reversed a decision to allow Wisconsin to count late-arriving mail-in ballots for up to six days after the election, as long as they were postmarked before the election. Now, Wisconsin joins 29 other states that require absentee ballots to be received by Election Day to be counted. And with USPS delays and a president who is looking for any reason to throw out mail-in ballots, now would be a good time to find a polling place or ballot drop-box ASAP.
Besides screaming "screw you!" to the supreme court who seem hell-bent on destroying our democracy, here's what you can do if you're still holding onto your ballot. According to Headcount.org, "the post office is reporting delays nationwide," so the non-partisan voter registration juggernaut advises that you "drop your ballot off in person."
So how exactly do you drop your ballot off in person? It varies by state, but you can search for your state and its specific election rules on HeadCount.org's website to find out what's required to submit a ballot and where exactly you have to go to turn it in.
First, find out what's required to vote by mail. Some states, like California, require that the signature on the ballot matches the one on your driver's license. If the signatures don't match, your ballot might be thrown out. In other states, like Alabama, you have to sign your ballot in front of two witnesses, who must also sign the ballot.
Then, drop your ballot off in person. Some states have drop boxes scattered throughout larger cities, while other states will let you drop your ballot off at your local polling place instead of waiting in line. Some states will only allow you to drop your ballot off at your local elections office. I know, it's an unnecessarily complicated process, so check out HeadCount.org and search for your state from the dropdown window for a detailed description of what it takes to cast a ballot in your specific state.
If you don't want to drop your ballot off, consider voting in person. Many states are currently offering early voting and then of course, you could always vote on November 3, 2020. Mask up and practice social distancing so that voting in person is a safe and surefire way to ensure that your vote is counted.
To find out how and where to vote in person as early as today, head to IWillVote.com. Select your state from the drop-down window and click "Find Voting or Drop Off Location," which will give you the option to find early voting locations or election day voting locations.
Now get out there and vote! And by that I mean, find somewhere to safely drop off your ballot or locate an early voting center!
This article was originally published on