Small Maine Wedding Linked To 176 COVID Cases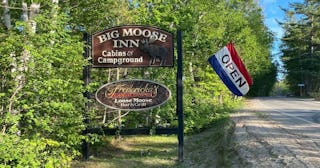 Big Moose Inn/Facebook
The Maine wedding is linked to 176 Covid-19 cases and the deaths of 7 people who didn't even attend
Back in August, about 65 friends and family members gathered in Maine for a wedding at the Big Moose Inn in Millinocket. An outbreak of COVID-19 followed soon after among guests, but perhaps most disturbingly, spread to people who didn't even attend the wedding — and now seven of those non-attendees have died from the virus.
The Maine Center for Disease Control and Prevention has now traced many outbreaks back to this singular wedding event, including outbreaks at a longterm-care facility and jail — both located more than 100 miles away from the wedding venue. Six of the seven deaths occurred at the longterm-care facility because an employee of the facility lives in the same household as someone who attended the wedding. An employee of the York County Jail also attended the wedding, causing the spread there.
Additionally troubling is the fact that Maine currently has a state guideline of 50 people or less at indoor gatherings. Authorities have said more than 65 people attended the wedding. Maine has reported less than 5,000 cases of the virus in total since March, per CBS News. But the growing number of cases related to the wedding could change things drastically.
The six people from the Madison rehabilitation facility who died were all residents of that facility and none of them attended the wedding reception, said Dr. Nirav Shah, director of Maine CDC.
"Maine CDC is concerned about where we are, and I'm asking everyone else to share in that concern. COVID-19, right now, is not on the other side of the fence. It is in our yards," Shah said. "The gains that Maine has made against COVID-19 are ones that could, and unfortunately can, be washed away."
The Maine wedding is not the only "superspreader" large gathering to occur that goes against state rules. Public health officials across the U.S. have been tracing infections from other summer gatherings, like a motorcycle rally in South Dakota and a large choir practice in Washington.
Maine CDC spokesperson Robert Long said the agency's investigations suggest "multiple potential points of transmission related to the August 7 wedding and reception." The agency is currently working to limit the spread of the virus and support people affected by it, but Dr. Shah says the state's current positivity rate has increased 0.63% during the past week alone.
"The trends that we've seen over the last two weeks tell us that things are either getting worse or not getting better," Shah said, WABI reported. "We are asking everybody that they can do their part. Even though there were positive signs on the horizon, low hospitalization rates, generally favorable levels of testing, there are still concerning signs. What we don't want to have happen is that those concerning signs take over the positive."
This article was originally published on