Everyone Needs To Know This Exists: You Can Make Waffle Bowls In Your Kitchen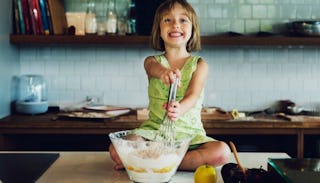 Rawpixel / iStock
I can see your comments already. You don't need another kitchen gadget, like that quesadilla or cake pop maker, that will just hog up your counter space for two years until you decide to relocate it to the garage (or donation pile). These novelty kitchen items lose their luster quickly, and become a pain in the ass for busy parents.
I get it.
But, waffle bowls, people. Waffle. Bowls.
Not to be confused with waffle cones, which are also fantastic, these little bowls are soft. An actual waffle shaped like a cup, so that you can fill it with your favorite breakfast scramble, or fresh fruit, or….
Ice cream. Or Frozen Yogurt. And accompany that with all of your favorite toppings, of course.
The best part? It heats up in a few minutes, then you just use your favorite batter. No special mixes required. Boxed or homemade, whatever your preference.
You can even use cake mixes.
Or shredded (thaw first!) hash browns.
You can make bowls out of anything, folks. This is blowing my mind, and making me hella hungry.
This feels like it could be the perfect idea for a fun family night. Waffle bowl, scoop of ice cream, then let the kids pick their toppings.
Or a small gathering. Let's be real: Nobody wants to stand there and make 50 of these things. But a handful of kids at your house for a birthday party? This beats the standard cupcake, I think.
The manufacturer suggests a chicken waffle taco, and while I typically roll my eyes at all manufacturer's suggestions, I may be able to be persuaded to eat a taco waffle bowl, I must admit.
It comes in at under $30, so even if it is just a phase, you can get your money's worth here. I mean, how could you not? Waffle bowls. Cake bowls. Potato bowls. Treat yourself.
This post contains affiliate links, which means we receive a small portion of the sale if you make a purchase using these links.