15 Goodies That Will Make You Feel Like You're On Vacation Even If You're Stuck At Home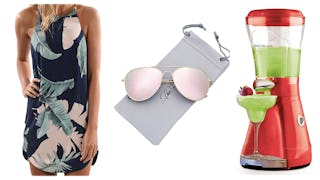 Images via Amazon / Walmart
Vacations are the best, right? I mean, if they don't cost 8 million dollars, require weeks of planning and packing, and if our kids don't melt down in the parking lot at Disney World because their foot is scratchy. Other than that, yeah, totally awesome. So, for lots of reasons, we don't always get to escape our real worlds and fly away to an island or the mountains or Italy for some gelato. But here are some products you can buy for your home that might make you think you're on a fab vacay. (If you close your eyes and try reeeeeeally hard.)
This one's pretty much a given for anyone trying to pretend they're in Tahiti and not chasing a poopy toddler around a cul-de-sac, counting the minutes until bedtime. So go ahead and mix up some frozen treats for you and your mom friends, ignore your toddler's stench for 10 minutes, and boom. Tahiti.
Okay, but you also need fun glasses for your "vacation" drinks. These light-up margarita glasses have a fun twist and will ensure you don't lose your drink, even at night, with their unique glow feature.
And finally, how about these adorbs umbrella straws to complete the scene? Your kids can tantrum and beg for fruit snacks all they want, but you're cool. You're sipping a frozen daiquiri with an umbrella in it. Now if you could just get a pool boy to bring it to you…
One of the best parts of vacation is sleep. So slip away to dreamland hearing the sounds of crashing ocean waves with this sleep therapy sound machine. And maybe you'll get some extra rest too — which will make your nights super vacation-y.
Want to pretend you're at the beach when really you're nowhere near it? How about a beach read like The High Tide Club by Mary Kay Andrews? I mean, if you can't lie around in the sand, at least you can read about other people doing it.
Another way to feel like you're on vacay is to treat yourself to a sexy beach dress like this one, even if you wear it to the pool with your kids rather than a sunset dinner in Cabo.
7. Yardzee (or Other Yard Game)
When you're stuck at home and your neighbors are jetting off to somewhere fun, try making a party in your backyard with Yardzee or some other fun yard game like Giant Connect 4 or Ladder Toss.
Take yourself straight to Italy with these recipes. Yeah, you have to cook them yourself, and no, you're not in some cafe in Rome or Venice, but at least it's an excuse to eat some good cheese and drink a large glass of wine.
If you're dreaming about a winery while you drink boxed wine in your kitchen and cook mac and cheese for your kids, how about hanging some winery-inspired curtains on your windows?
If you're stuck at home while everyone you know is off jet-skiing somewhere, the ultimate vacation train wreck movie will cheer you up. See? Trips are overrated.
Are you running to the grocery store and picking up dry cleaning? Or on a shopping spree on Rodeo Drive? Could be either when you're rocking these awesome aviators.
Hang this super cute shadowbox where you can see it every day and watch it fill up as you drop in your loose change. Because you know what? Dreaming about a vacation is a lot more fun if you have hope that it may actually happen someday.
Or another option for wall decor is a gorgeous piece of art like this one. So pour yourself a glass of wine, sit back, and look longingly at the place you dream of visiting. It's almost like you're there, right? Almost?
If you're truly stuck at home this summer and fall, definitely invest in a kick-ass fire pit, gather the fam, and cook up some s'mores. Yeah, it may not be a vacation for the books, but your kids will love it.
Finally, complete your backyard with a comfy patio set if you have no plans to go anywhere for a while. With a fire pit, yard games, and some fancy seating, you can make your own oasis and forget all about your stupid neighbors and their Caribbean cruise. Screw them. We got margaritas.
Listen, we know it sucks when it seems like everyone you know is visiting super cool places and you have no vacation time left and can barely afford a trip to the zoo. So treat yourself to something that cheers you up and makes you think, even for a moment, that you, too, are on a sweet-ass ski vacation in Vail rather than watching Peppa Pig and eating stale Cheerios. A person can dream, right?
We may earn fees from purchases made via links on this page and affiliated sites. All opinions are our own.
This article was originally published on