Retailer Uses Un-Retouched Models And The Internet Is Here For It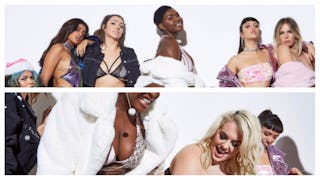 Image via Make Your Mark
#MakeYourMark is here to show women 'perfection' doesn't exist
Shopping for clothes can often be a stressful experience for women, because the way things look on ultra-thin, Photoshopped models or mannequins are often not how they look on regular human beings. Luckily, retailer Missguided is here to change our perception when it comes to how clothes "should" fit, by using unretouched models in their latest campaign.
"Make Your Mark" is a photo campaign featuring nine models and body-positive activists. The best part about the models? They have real human bodies that haven't been airbrushed or distorted into society's standards of what female bodies should look like in clothes.
Their message is clear: "Fuck perfection, it doesn't exist." The campaign features models of all colors, shapes, and sizes who are here to represent those of us with stretch marks, curves, and boobs of all sizes.
"As part of our #KeepBeingYou movement, we're on a mission to inspire babes the world over to love themselves, for themselves, to embrace your flaws and to not strive for what the world perceives as perfection. Because f*ck perfection. It doesn't exist. We are making a pledge to never retouch our models' perfect 'imperfections' out."
This is some serious pioneering in the retail industry, that's for sure. And the internet is so here for it.
The campaign features quotes from the models themselves.
"I would be so humbled to know I've made another woman feel comfortable in her body."
"I love how strong my body is, it's always been there for me, even if it needs a little bit of extra help along the way."
"Feeling good about yourself affects your entire life, if you're not happy with yourself physically or emotionally you can't be happy in any other respect."
Bottom line: representation matters. Major applause to Missguided and everyone behind this campaign for showing women everywhere we all have a place in fashion.