The #MakeMySize Campaign Reminds Us That Clothing Should Be Made For ALL Sizes And Shapes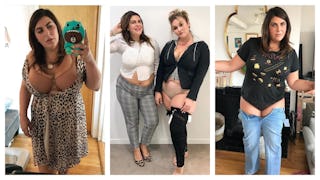 Instagram / @the12ishstyle
Shopping, as fun as it can be, is a real pain in the ass for lots of women. Not necessarily because we don't have time or are picky about what we like to wear, but because of the (often) crappy way clothes fit.
For so many women, trying to find clothes that properly fit is practically impossible. Lots of companies use tactics like vanity sizing, which leads to nothing but annoyance and confusion (if you're a size 8 at one store, how can you then be a size 14 somewhere else?).
So it's no wonder that shopping, especially for women who wear anything larger than a size 8, can be a truly frustrating experience. While many women openly lament the lack of clothing options for those who wear larger sizes, one woman is taking the conversation a step further.
Katie Sturino, who runs the fashion blog The 12ish Style, started the hashtag #makemysize, which is set up to openly call out brands for not making more inclusive clothing sizes, after an online order she received was full of clothing that didn't fit. Understandably pissed off, she took to her Instagram account to bring attention to her all-too-common problem.
In an Instagram post highlighting her other incredibly popular hashtag, #SuperSizeTheLook, Katie shared her motivation for starting #MakeMySize:
"I polled you guys and 97% of you felt that there were not enough cute clothes in your size. @huntermcgrady and I are both wearing a US16 and I can't tell you the frustration when I'm shopping (and I'm a blogger! In NYC!) So while I applaud brands who are making changes to include more sizes, I'm going see if we can work together to let other designers know that they have a whole demographic that wants to shop. Please tag a brand you wish made your size below! I'm starting the #MakeMySize Movement!"
https://www.instagram.com/p/Bl9HyQsH0a0/
In an interview with Health, Sturino further elaborated on the struggle that led her to start this movement.
"I had an online shopping order come in and nothing fit me," she explained. "I'm a fashion blogger in New York City and I have a really tough time finding something to wear. And if I have a tough time, imagine how the regular woman who's not a fashion blogger feels. I'm hoping that designers will take note and extend their sizes. And if they don't already have plans to introduce extended sizing, I want them to see how many beautiful women they're missing out on."
The comment sections of her IG posts call out the many brands that don't make clothing to accommodate larger sizes, even though most American women are somewhere around a size 14-16. Of course, many are higher end brands, but some women called out more mainstream brands for relegating much of their plus-sized clothing options to online only, where it is hard to know if the clothes will fit when they arrive.
"What I find so frustrating is they may have my size but it's ONLINE ONLY! Why can't it be available in the store too??!!" reads one comment on Sturino's original post.
Many women on Instagram have embraced the #MakeMySize campaign and for good reason. Size should not be a deterrent from wearing cute clothing that makes you feel good. It is not hard for brands to know that the average American woman wears a size 14, so why are they still designing exclusively for women who are a size two? And forget about women who have a larger chest or butt/thighs. These are commonly the reasons women need to adjust their clothing size.
https://www.instagram.com/p/BoCbU1hh4oe/
"Awareness: finding pants &/or jeans when you have curves is hella nightmare. Many brands don't make pants for curvy girls. They're just pencil straight, not even stretch. 1. It is even more difficult to find clothes that fit when people tell you you need to loose weight in order to find clothes that fit. Curvy womxn don't need to loose weight. & 2. We shouldn't be obliged to go online to find clothes our size. The #FashionIndustry needs to make our size. Period," reads a post from Instagram user @allofmylights.
https://www.instagram.com/p/BniVsyqH7gQ/
It is absolute bullshit that in 2019, women still can't find clothing that is fashionable and fits them. Your size shouldn't be a barrier. Any woman should be able to walk into a store they love and walk out with something that fits and makes them look and feel amazing.
If more brands don't get the memo, then they're behind the times. Katie Sturino and #MakeMySize are hopefully going to force those conversations to happen. We hope the fashion industry is listening.
This article was originally published on