Guy Lasts 30 Seconds Hooked Up To Labor Pain Simulator, All Women Die Laughing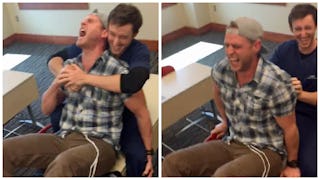 Image via YouTube
This college student was brought to his knees in a matter of seconds by a labor pain simulator
It's often said that if men were the ones having babies, the human species would quickly die out. That's because women seem to have a slightly (OK, way higher) tolerance for pain than men, and that fact is hilariously evident in this video of a guy losing his mind while hooked up to a labor pain simulator.
My dude, welcome to womanhood.
According to NY Daily News, Johnny Wade, a student at Lincoln Memorial University in Tennessee, volunteered to be hooked up to a labor pain simulator. This bro was obviously in the dark about the horrors to come, and it's a delight to witness.
"No matter what I say, go to 10," says the innocent young man, totally ignorant to what he was bringing upon himself. As a friend coaches him while he breathes through the misery, it's quickly clear he won't go the distance. Only seconds after his brave insistence that his classmates take it to the limit, he gives up, screaming "pineapple," which was apparently his safe word.
If only it were that easy to stop actual labor pain. Well, it kind of is. Just shout "drugs!" or "epidural!" or "get this baby the fuck out of me before I kill everyone in this room!"
I'm partial to the third one.
Wade's screams of agony are a thing to behold, especially if you're a woman. Even those of us who haven't endured labor pain (thanks, planned c-sections — not that those were any picnic) or even had kids, have experienced period cramps. Most men probably wouldn't survive the five days of miserable bullshit we go through every month, let alone the horrifying pain of giving birth. Not that we would wish it on them. OK, sometimes we wish it on them.
Though his screeching has us giggling pretty hard, it's the female students laughing at his reaction that make this video one to watch on repeat. Their cackles are tinged with a combination of validation and pure revenge. What woman who's given birth and then watched her partner whine his way through a man cold hasn't fantasized about watching him suffer through a 24-hour labor?
A better woman than me, that's who.
While this isn't the first time the internet has peed themselves laughing at a writhing dude hooked up to a labor simulator, these videos literally never get old. Please keep sharing this comedy gold, men. If us women have to endure actual pain for as long as nature forces us to, we should at least get to smirk at your pretend version.