The New Teaser Trailer For 'Maleficent 2' Is Absolutely Breathtaking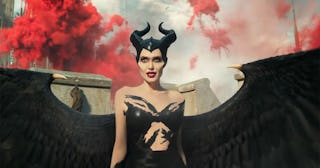 Disney/Youtube
Maleficent: Mistress of Evil already promises to be just as stunning as the first film
If there's anything Angelina Jolie excels at, it's making us literally catch our breath after gazing upon how stupidly, impossibly gorgeous she is. Only in the teaser trailer that Disney just dropped for Maleficent: Mistress of Evil, she's not the only thing that's taking our breath away.
Y'all, this trailer is stunning. That's not really a surprise, because Disney is known for going big or going home. But if we thought the first Maleficent movie was gorgeously shot and edited, this one is going to give it a run for its money. Behold.
What did we tell you? Beautiful. And set to that haunting soundtrack. As if we weren't excited enough to see this one.
Unfortunately, what this trailer isn't delivering is a lot of details about what to expect from the plot. But here's what we know so far. Angelina Jolie is reprising her role as the evil Queen Maleficent, and Elle Fanning is returning as Princess Aurora. For the sequel, we'll also see the addition of Michelle Pfeiffer as Queen Ingrith. And just like in the first film, we can't really tell who the true villain of this movie is going to be, though Angie is looking witchy as all hell, and the haunting cover of "Season of the Witch" playing in the background just might be a clue.
The one other detail that's a little surprising is the scene of Aurora looking very in love with a prince under a tree. Only this prince is played by Harris Dickinson, not Brenton Thwaites, who portrayed Prince Phillip in the first film. Does that mean Aurora has a new man in her life? If so, what happened to Phillip? We're gonna need answers to these questions, stat, because Aurora and Phillip are Disney canon and they are meant to be together, and we are prepared to die on that hill, don't test us.
Other than that, we don't want to go crazy with the speculation. Disney is keeping plot details under tight wraps for this movie, and we're going to wait as patiently as we possibly can until it hits theaters Oct. 18, which is now less than six months away, FYI.
In the meantime, Disney has given us plenty else to look forward to. 2019 may as well just be renamed Disney19, because the studio is dominating this year. There's the live action remake of Aladdin, which is dropping May 24. That'll be followed by Toy Story 4 on June 21. Then there's The Lion King, which will finally be in theaters beginning July 19. All this will be capped off by Disney Plus, the company's forthcoming streaming service, which is set to become available in the U.S. in November. There's no such thing as too much Disney. But this year, we are getting so. Much. Disney.
Don't take that as a complaint, though, because it is certainly not. If anything, we'll take more of all the goodness Disney is serving up this year. You hear that, Disney execs? More of this. So much more of this.