Mall Bans Breastfeeding Moms From Entering Mother's Day Photo Contest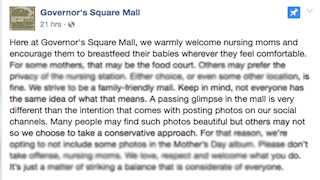 Image via Facebook
Mall says breastfeeding moms are welcome, just not in their Mother's Day photo album
The Governor's Square Mall in Clarksville Tennessee posted an unfortunate Facebook message yesterday. And they are catching hell for it.
The mall hosts a Mother's Day photo contest. Moms can submit images to the mall via private Facebook message, and the mall claims they will "post the photos as we receive them." Whoever gets the most "likes" on their photo wins a $100 gift card. Only problem, not all photos were being posted. It seems women are not allowed to submit breastfeeding photos for a Mother's Day contest.
Women must have been noticing that their photos weren't going up, and the mall took their Facebook page to explain why — with this sorry-not-sorry message:
"Here at Governor's Square Mall, we warmly welcome nursing moms and encourage them to breastfeed their babies wherever they feel comfortable," the post starts. "For some mothers, that may be the food court. Others may prefer the privacy of the nursing station. Either choice, or even some other location, is fine."
Oh, breastfeeding in the mall is fine? How nice of you to obey the freaking law. Breastfeeding mothers can feed wherever they damn well please, by law. So whether you think it's "fine" or not is neither here nor there. You aren't doing mothers any favors by "allowing" them to breastfeed. You're simply not breaking the law by preventing them from doing so.
"We strive to be a family-friendly mall," the post continues. "Keep in mind, not everyone has the same idea of what that means. A passing glimpse in the mall is very different than the intention that comes with posting photos on our social channels. Many people may find such photos beautiful but others may not so we choose to take a conservative approach. For that reason, we're opting to not include some photos in the Mother's Day album."
Translation: we allow you to breastfeed openly because we have to, but no one really wants to see that, moms, so don't bother submitting photos. To make things even worse, they pinned the post to the top of their Facebook page so it's the most prominent message.
"Please don't take offense, nursing moms," the mall concludes their post. "We love, respect and welcome what you do. It's just a matter of striking a balance that is considerate of everyone."
The contest states, "We reserve the right to not post a photo that we deem as inappropriate. We reserve the right to remove any photo if there is a situation out of our control." Not sure what a "situation out of our control" means, but since they're refusing to post the breastfeeding photos, they clearly find them "inappropriate."
Huh. Well, the mothers in town saw straight through this message, and had some thoughts of their own — and photos.
"I've breast fed 4 children and won't let someone who is worrying about pleasing a small majority of ignorant people keep me from trying to normalize breastfeeding," writes Meaghan Singleton. "Nor will I sit back and allow you to judge a photo on your level of "tastefulness" because all breastfeeding photos are tasteful because it is natural, whole breast out or with a cover. If my photos be on my social media account or yours. It is normal. Let me repeat that, IT IS NORMAL! You, Governors Square Mall are in the wrong."
"Governor's Square Mall please remove my picture from your contest," writes Ceara Haddock. "Little did you know that session was also a nursing session. Here's the picture I entered, just in case you don't want to look my name up."
"I want every nursing mom to know how proud I am of you and how beautiful you are," writes Carrie Beth Dunavant. "Happy Mother's Day. We deserve the right just as anyone else. #normalizebreastfeeding"
"So let me get this straight…. It's perfectly acceptable for Victoria's Secret lingerie model photos to be in your building, but it is not ok to have a photo up of a woman breastfeeding in honor of Mother's Day?" asks Kourtney Welch. "I'm sorry, but feeding all 4 of my babies is an essential part of being a Mother."
So just to recap, breastfeeding moms — the Governor's Square Mall will take your money, they just won't allow you to enter their Mother's Day photo contest. Because people who go to their MOTHER'S DAY ALBUM to vote may find those photos offensive.
Yeah, that makes a whole lot of sense.
Scary Mommy reached out to Governor's Square Mall for comment.
This article was originally published on