Mall Of America Hires Its First Ever Black Santa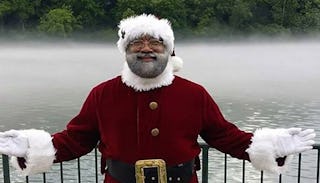 Image via Facebook/ Santa Larry Jefferson
Mall of America's "Santa Experience" hires its first black Santa
Mall of America is the biggest mall in the country, and this year they will be hosting a black Santa for the first time, ever.
Larry Jefferson is a professional Santa. He attended Santa school in 2014, about the same time he retired from a career in the military. "I enjoy making people smile and be happy. During the holidays, people go through a lot," he told The Huffington Post.
He's a natural. He played Santa for the first time when he was 12 years old and his dad was sick. "Years later, when his nephews fell ill around Christmas, he bought a Santa suit for $30 to surprise them," HuffPo reports.
"It's no big deal. I'm still Santa. I just happen to be a Santa of color," Jefferson said. "It gives some kids an opportunity to see a Santa that looks like them and it gives them something to identify with. But Santa is still just Santa. Kids are just kids. They are very innocent and they just love Santa."
The Washington Post reports one woman told Jefferson she had been "waiting 25 years to see a black Santa." Other families told him they had "driven hours just so that their kids could meet him."
A spokesman for the Mall of America said, "We're looking to have a Santa for everyone." There are many different Santas in The Santa Experience, and the mall has expressed interest in diversifying even further: "The Santa Experience is saying they're open to the possibility of seeing a Latino or and Asian Santa, mainly they said they just want to spread joy, peace, and happiness — and if a multicultural Santa helps they say they are all for it."
Fox anchor Megyn Kelly made news a few years ago when she reacted to a piece in Slate by Aisha Harris titled, Santa Clause Should Not Be White Man Anymore. Kelly moved from condescension to almost anger, to actually addressing kids at home by saying, "Yet another person claiming it's racist to have a white Santa. And by the way for all of you kids watching at home, Santa just is white, but this person is arguing that maybe we should also have a black Santa. Santa is what he is." Harris made no mention of racism in her piece, she just mentioned that Santa should be inclusive to all cultures that celebrate the Santa fantasy around the holidays. And why not? He's made up. He can be whatever we want him to be.
Jefferson told The Washington Post, that once when he was entertaining as Santa at a party in Texas a child walked up to him and said, "Santa? I didn't know you were brown?" Jefferson responded, "Yes, I am brown. And Santa comes in many different colors."
"There needs to be more Santas of color, because this is America, and kids need to see a Santa that looks like them," he said. "That helps kids to identify with the love and spirit of the holiday, you know?"
This article was originally published on