Mall Santa Visits Will Look Very Different This Year Due To COVID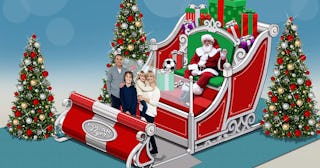 Brookfield Properties
Due to the COVID-19 pandemic, Santa Claus will be behind plexiglass, socially distanced from others, or completely virtual
Every year millions of children head to their local mall and plop down on the bearded guy's lap, tell him what they want for Christmas, and take an (incredibly overpriced) photo with the man they call Santa Claus. However, due to the fact that we are in the middle of the worst pandemic in a century, the annual tradition is going to look a little bit different in 2020. While Santa Claus will still be coming to town this year, hitting malls across the country and even the Macy's Thanksgiving Day parade, there will be little person-to-person contact with ol' Saint Nick.
Brookfield Properties, a subsidiary of Brookfield Asset Management (BAM) Property Partners and the second largest mall operator in the country, revealed to CNN that although Santa will be present in the majority of malls, it will be a "touchless experience."
https://www.instagram.com/p/CGIc_L1jdOI/
"Santa is an important holiday tradition for many families but we are looking to pivot the experience for safety," Rocell Viniard, director of portfolio marketing with Brookfield Properties, told the publication. In other words, there will be no sitting on Santa's lap.
Additionally, in states that have mask mandates in place, Santa and guests will have to wear a mask. However, in states with no mandate in place, Santa is free to visit with children sans mask nor will Santa or his visitors be required to sign waivers. However, there will be social distancing stickers, suggesting where people should stand, and some properties will also have "special decor" with the purpose of keeping people six feet away from Santa and providing kids with a place to perch for their special photo.
"Every [visit] will be contactless. So kids can sit on wrapped packages near Santa, or across the table from Santa and have a conversation. We can still capture the memory for family photos," Viniard added.
There will be other creative ways that Santa will make an appearance at Brookfield properties. For example, he may meet and greet while inside of a snow globe or behind a picture frame. "Think of this like a drive-up window type of scenario," Viniard added. "Guests will be able to walk up and have their conversation with Santa and then turn for the framed photo."
For those who want to avoid leaving the house to visit with Santa, Brookfield will also be launching a virtual visit starting November 1, with reservations available on the website ExperienceJingleRing.
Preit, a mall operator with locations mostly on the East Coast, will be placing Santa behind a protective plexiglass barrier. "It's a plexiglass barrier and Santa in each of our locations will sit behind it. It will have a bench in front of it so kids can sit down and take a photo with Santa," Heather Crowell, spokesperson for Preit, told CNN. While Preit malls requires visitors to wear masks, children will be able to remove them for their photo with Santa, "since he's behind Plexiglass." They will also offer a Zoom visit, and instead of a photo with Santa, "you can have a recording of your Zoom call," she explained.
Whatever you decide to do this year, make sure to do it safely. As recommended by the Centers for Disease Control and Prevention, practice social distancing, wear a mask, maintain hand hygiene, and do not leave your house and even consider visiting Santa Claus if you have been exposed to COVID-19 or are exhibiting any symptoms. Also keep in mind that most mall Santas fall into the high risk category due to their age, according to Rick Rosenthal, or "Santa Rick," a Santa alum who is the dean and cofounder of the Northern Lights Santa Academy, a Santa school in Atlanta.
"Santas are typically in a minimum of two high-risk categories for the coronavirus. They are usually individuals over the age of 65 and they are overweight," he said. "So even to do this job in a pandemic can be life-threatening."
This article was originally published on