94-Year-Old Builds Neighborhood Pool To Fill Silence After His Wife's Death
by Christina Marfice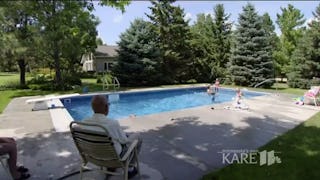 Image via KPNX
After his wife of 66 years died of cancer, Keith Davison filled the silence in his life with laughter from neighborhood kids
After nearly 66 years with the same person by his side, 94-year-old Keith Davison decided he didn't care for being alone.
Davison's wife, Evy, died of cancer in April last year, just four days before their 66th anniversary. In the months that followed, he told his local NBC affiliate KPNX, things were just too quiet.
"You just can't imagine what it's like," he said. "You cry a lot. That's just the way it is, because she's not here."
But it was the quiet that really got to Davison, so that's what he decided to do something about. He and Evy had three grown children, but no grandchildren, so Davison installed an in-ground pool in his backyard and made it open to any neighborhood kid who wants to use it.
"I knew they'd come," he said.
And we're not talking a small pool, here. Davison's pool ended up being 32 feet long, and 9 feet deep at the deep end, which has a diving board installed. In a city without a public pool, his neighbors say he's given local kids a safe, healthy activity for hot summer days.
Those neighbors almost didn't believe him when he started floating the idea by them. Jessica Huebner, a neighbor with four children, said she thought he was kidding when he first brought up the idea of building a public backyard pool.
"This spring when I saw him marking the yard, I told my husband, 'He's really going to put a pool in his backyard,'" she said. The pool opened in July, and since then, Huebner and her kids have visited regularly.
"It's him spreading joy throughout our neighborhood for these kids," Huebner said.
While Davison has a rule that no child can use the pool without a parent or grandparent present, more often than not, he's in his lawn chair in the shade nearby, watching the kids splash and letting their laughs and games fill the silence that used to be in his life. And after all the kids go home, sometimes he'll take a dip himself. Economically, he admits it didn't make any sense to build a pool in his backyard at 94 years old. But that wasn't the point, he added.
"I'm not sitting by myself looking at the walls," he said. "What else would you think of doing where you could have a whole bunch of kids over every afternoon?"