Man Dressed As Elsa Pushes Police Wagon Out Of The Snow, And It's Pure Magic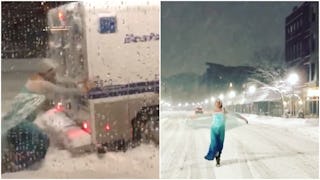 Image via Christopher B. Haynes/Jason Triplett
An Elsa impersonator just completely saved the day
A 32-year old attorney dressed as Elsa singlehandedly pushed a vehicle out of the snow, because the cold didn't bother him anyway. Jason Triplett has (quite rightly) gained internet fame after a video surfaced of him helping out some police officers during a blustery Boston snowstorm — all while rocking a very cute, floor-length gown. Honestly, the only other thing we needed was a cameo from Olaf and this would pretty much be the Frozen sequel we all deserve.
It all started when Triplett decided to celebrate his city's icy blizzard by dressing up as Elsa and meeting up with his friends at a bar. He was the first to notice that a police wagon was stuck outside in the snow — and took it upon himself to save the day.
"We were super busy, and Elsa and some of her friends came in and were dancing around having cocktails," the bar's manager, Allegra Wolff, told PEOPLE. "Elsa was the first one to run and prance out and help. It was amazing. He started pushing with all his might, and finally got the car unstuck."
Is that not the most glorious thing you've ever seen? Perhaps the second best part of this video is the cheers from the crowd, which included words of encouragement like: "C'mon Elsa!" and "Let it goooo!" Not that Triplett really needed any sort of encouragement. When you've got it, you've got it.
Needless to say, the internet was very, very delighted by this moment of heroism. Footage of Triplett pushing the police wagon out of the snow has been viewed more than 1.5 million times, and the Twitterverse tipped its hat to the queen of Arendelle.
https://twitter.com/jetpack/status/974085074227523585https://twitter.com/jetpack/status/974129391138680832https://twitter.com/jetpack/status/974233302801567744https://twitter.com/jetpack/status/974067881485873152
Meanwhile, Triplett posted this video on Instagram, which is pretty much just as magical as the car pushing. Idina Menzel mighhhhht have some competition.
All in all, though, Triplett isn't very fussed with his new viral fame.
"Everyone will be over it by noon," Triplett told PEOPLE. "But if this is my 15 minutes, I would like to leverage it to meet Adam Rippon."
Can we make this happen for him? Please? It's the least we can do.
This article was originally published on