Man Gropes Woman On Plane, Tells Police 'Trump Says It's OK To Grab Women'
by Thea Glassman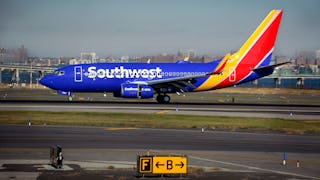 Image via Robert Alexander/Getty Images
Man who groped a woman on a plane told police that Trump set the example
On Monday, a man was arrested for allegedly groping an unidentified woman on a Southwest flight. According to an FBI affidavit, he explained that "the President of the United States says it's OK to grab women by their private parts." So, yup, this is the disgusting world we're living in right now.
The woman told authorities that she was sitting in a window seat when she felt a hand from behind her touch her right breast. At first, she thought it was an accident. Then, thirty minutes later, it happened again. Alexander, who was seated directly behind the woman, reportedly grabbed the back of her arm and began to grope her around the ribs and bra line.
She later told an FBI agent that she saw a hand that had "thick fingers, were hairy, and dirty fingernails."
After that second incident, the woman turned around and told Alexander to stop. She alerted a crew member, who moved her to another seat. When the plane landed in Albuquerque, Alexander was detained by police officers. An FBI agent assigned to the case wrote that there was "probable cause" that Alexander had indeed sexually assaulted the passenger.
If this story hasn't already made you completely sick to your stomach, the next part will do you in.
The FBI affidavit stated Alexander told officers that the president said "it's okay" to touch women's private parts.
Not that you need a reminder, but back in 2016 an audio clip was leaked of Donald Trump admitting to touching women without their consent.
"You know, I'm automatically attracted to beautiful, I just start kissing them. It's like a magnet. Just kiss. I don't even wait. And when you're a star, they let you do it. You can do anything," Trump said. "Grab them by the pussy. You can do anything."
Meanwhile, Alexander is still in federal custody, according to Buzzfeed News. He'll have a preliminary hearing and detention hearing on Tuesday. If convicted, he'll face a maximum of two years in prison and a $250,000 fine.
Here's hoping that Alexander receives proper punishment for his repulsive actions and men everywhere are reminded – once again – NOT TO TOUCH WOMEN WITHOUT CONSENT.