Woman Shot Dead In NYC Street By Spouse She Wanted To Divorce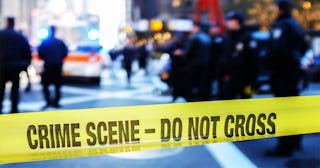 Jack Berman/Getty
Man kills wife outside her New York apartment for trying to divorce him
I know you're sick and tired of hearing refrains about how bad this year is, but 2020 just keeps handing us heartbreaking news. A Canadian man shot his wife on the streets of New York because she wanted to divorce him. This reminds me of another common refrain is true, which is that men are afraid that women will reject them, and women are afraid that men will kill them.
According to ABC7 New York, a 46-year-old man, Xin Yu, waited for his 40-year-old wife, Min Ai, outside her apartment in Lower Manhattan at the time she usually left to go to work. They got into an argument and he attacked her with a knife before shooting her twice. He then turned the gun on himself. Tragically, they both died.
The husband reportedly had their marriage certificate with him when he killed his wife as they were apparently separated and even living apart (she in Manhattan, he in Ontario, Canada). The wife had moved on and had even been dating a coworker at the Lower Manhattan bank where she worked for the past year and had told her boyfriend that she had been trying to divorce her husband but to no avail. It was actually the boyfriend who contacted authorities on Monday when he couldn't get in touch with Ai. The wife died on the scene, while the husband was pronounced dead at the hospital from a gunshot wound to his head. New York Daily News says the woman had described her husband as "mentally ill," which makes his possession of a weapon that much more disturbing.
This whole thing feels very, "if I can't have you, no one will" vibes, which is terrifying. And for the commenter on the New York Daily News Facebook page shaming the woman and saying "how about you get a divorce first…and get the hell away from this guy before you even start dating someone else," it actually sounds like she tried to get a divorce and DID get away from him by literally moving to an entirely different country. We don't know the details in this relationship, but spouses refusing to sign divorce paperwork is sadly, all too common.
Earlier today we saw the story of a three-year-old boy who accidentally shot and killed himself with his family's handgun and now this tragic murder-suicide comes out as well. What will it take for this country to adopt common-sense gun laws? None of these tragedies had to happen.