Dad Pays Off $10K Worth Of Layaway Christmas Toys For Local Kids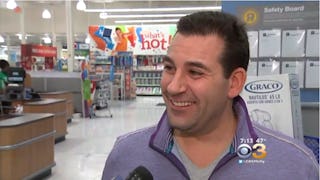 Image via CBS 3
The "layaway angel" paid for dozens of toys at a New Jersey Toys R Us
The holidays can be a beautiful time of year, but for many families on tight budgets they can also be very stressful. Several stores still offer layaway, which can help ease some of that burden by helping customers pay slowly for their items. But for some seriously lucky families in Cherry Hill, New Jersey, they won't have to pay a dime for their gifts on layaway – they were completely paid for thanks to the kindness of a stranger.
The "layaway angel" goes by the name Charlie K. He arrived early to the store on Black Friday to shop for his son and was inspired to pay for the items customers had on layaway, according to CBS 3. He generously paid for approximately 62 orders totalling around $10,000.
"I'm trying to bring some happiness to people, to the community that brought happiness to me and my family," said Charlie K. "I love this community and I am trying to provide back to it."
Not all Santa's wear red suits apparently. The man's good cheer didn't end there either. He also had everyone in the store choose three items for him to purchase for Toys for Tots.
"The Marines and Toys for Tots are one of the best organizations, and I don't want to forget them," he said.
Charlie K says he tries to give back to his community often, but this is the first time he has given back like this, which proves it's never too late to be inspired and moved towards generosity. Whether in big ways or small – it all can make a profound impact on someone's life.
Customer Stephanie Dawson was one of the lucky people to have her gifts paid for. In total, it was seven presents for her grandchildren that cost $200.
"I want to say thank you very much and I appreciate it and thank god for you," she said.
Another customer, Jessica Jey, says she was caught completely off-guard. She showed up at Toys R Us expecting to pay full price for the toys she had picked out for her kids.
"They come over and tell me someone actually paid the layaway," Jey says. "It's definitely an early Christmas and I want to say thank you to the gentleman that came in and donated it's like the best feeling thank you."
The best part is the local news station just happened to be there to catch all of this merry magic.
And when the kindness is shared, it spreads. This man's act of kindness reminds us that we all have the power, in one way or another, to make a difference in someone's life.
This article was originally published on