This Guy Picks Up Trash On The Side Of The Road Just Because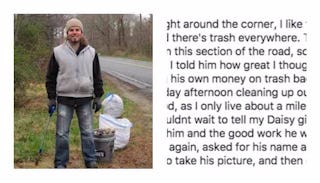 Image via Facebook
"There are no houses on this section of the road, so nobody cleans it up."
In the age of sharing everything on social media, it's refreshing to hear about someone doing a good deed and not seeking recognition. Luckily, a woman noticed a man performing a completely selfless act of goodness and was sure to share it, because recognition is exactly what he deserves.
Kathleen Lynch shared a story with the Facebook page Love What Matters about a young man she saw on the side of the road picking up trash.
Lynch writes, "While driving down Spring Street in East Bridgewater, I noticed 12-15 full white trash bags lined up along both sides of the road. Eventually I noticed a young man, probably in his mid twenties, with his bucket in hand, picking up trash."
She drove past him but ended up turning around to ask what he was doing. "He smiled at me with kind eyes and said, 'picking up the trash.'" Lynch asked, "Just because you want to?"
The answer? Yes, pretty much.
"'Well I live right around the corner, I like to fish in this area and there's trash everywhere. There are no houses on this section of the road, so nobody cleans it up,'" he explained.
Lynch praised and thanked him for using his own money to purchase the bags and his time to keep the road clean. She lives only a mile from the area and heads up a Daisy Scout troop that she told Quimby she couldn't wait to tell about his good deed. She asked permission to take a photo and said goodbye.
"His name is Scott Quimby, and he lives in East Bridgewater. He was not doing community service, he simply cared enough to do something about the litter that lines our streets and neighborhoods," she writes. Lynch notes that Earth Day is coming up later this month and uses Quimby's selfless act to remind others how they can make a difference with small changes.
"Next time you see a piece of trash on the road, pick it up. Let the last cigarette butt you threw out the car window, be the last. If you don't take the time to recycle, reconsider. Encourage the company you work for to do the same."
We had a chance to chat with Scott and he tells us this photo and story are actually from 2012. "I guess it got reposted by Kathy last week and it took off. I was amazed. I did it for that spring and summer and I think a few times the year after."
Quimby explains, "I actually moved that year and stopped doing it. I'm planning on heading out tomorrow to that same road and cleaning it up there again. Then I will continue to do it close to where I live now. It's amazing how much trash is on the sides of the roads."
When asked if the story resurfacing was the reason he decided to start up again he says, "Yeah it definitely is. I couldn't believe how many people it reached! I'm looking forward to getting back out there again!"
Hopefully, this story inspires others as well. This is the only planet we'll ever have, and if we don't take care of it, we won't have it much longer. Kudos to Scott for taking action.