Man Plays Video Game During Childbirth, Lives To Tell The Tale
by Valerie Williams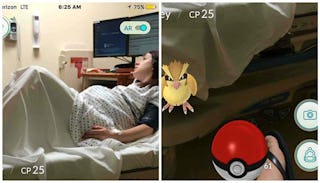 Image via Imgur
Dad keeps on playing Pokémon as his wife is about to give birth
In a move that will have women everywhere rolling their eyes, a guy decided to keep playing a game on his phone…even though his wife's c-section was imminent. The resulting screenshot is hilarious, and quickly going viral.
Earlier this week, the new Pokémon Go app became available for iPhone. And grown men everywhere just can't put it down, as evidenced by new dad Jonathan Theriot's viral photo.
He tells Scary Mommy that while awaiting the birth of their third daughter, Theriot and his wife were both playing on their phones, with his focus being the new game. Of the addictive nature of Pokémon, he says, "I even met another dad in the hospital that was playing it!" But it was while playing the game that he spotted a very important Pokémon he had to catch called a Pidgey. Even though the big moment was drawing near, he captured it and took a screenshot he then uploaded to Imgur. It's since been viewed over 1.2 million times.
His caption reads, "When your wife is about to have a baby and a Pokémon shows up and you have to low-key catch it…" And in the left-hand corner of his phone screen is the all-important Pidgey (whatever that means) and in the background, his wife. Indeed, very much ready to give birth.
Theriot initially explained to Buzzfeed, "As soon as it popped up, I was like, oh my gosh, there's a Pidgey sitting on your bed! So, I screenshotted it, then caught it and showed it to her."
For her part, his wife remained remarkably calm. "She just kind of laughed at it. It was primarily an eye-roll once she realized what I was doing."
Cue all women everywhere rolling their eyes in solidarity.
Some Imgur users questioned Theriot's devotion to his wife and child and wondered whether playing phone games was the best use of his time during this huge life moment. Obviously, these people have never had a baby. As much as this move would probably annoy some women, most of us understand that the waiting game before a baby comes can get a little boring.
Theriot confirms this saying, "I've already seen all the comments on other sites, so I'll go ahead and say that when the photo was taken, she wasn't in labor or pain at all. We were waiting to go back for the scheduled c-section. We were both playing on our phones while having a conversation, so she wasn't mad at all!"
But we will still roll our eyes for her. Just a teeny bit.
And of course, Theriot stopped playing when their third daughter, Ireland Sage, came into the world yesterday morning.
Theriot tells us things are going well post-baby, and that he's even had time to play a little more Pokemon since sweet Ireland is a great sleeper so far. But the best part? "My oldest daughter is all about it as well, so it's been fun sharing that experience with her."
And check them out, all three together.
Congratulations to the whole family.
This article was originally published on