Guy Uses National Magazine To Propose Marriage On Valentine's Day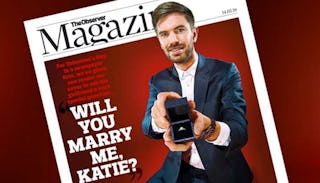 A man surprised his girlfriend for Valentine's Day by proposing marriage on a magazine cover
Proposing marriage is considered one of the most romantic gestures in life. Ask your significant other to share forever with you on Valentine's Day on an epic magazine cover and you'll have most ladies saying "Awww" across the globe.
That is exactly what one London-based gentleman did this Valentine's Day. James Greig worked with The Observer Magazine to plan a surprise cover photo where he's down on one knee and holding out a ring with the words, "Will you marry me, Katie?" in giant white letters written to the left of him.
Can you imagine if she says no? Could he never buy that magazine again? Would he grow to loathe Valentine's Day? Thankfully you only have to wait until the end of this post to find out how it all went.
In addition to the custom cover the magazine did a corresponding interview that girlfriend, Katie Moore, gladly participated in not knowing it was for this special surprise. She thought the story by Eva Wiseman was on long-distance relationships, which she and James had before her move to London.
She was 28 and living in New York when he reached out and asked if she would like to have dinner. They had met at a party a few years before, and James told The Observer that he "knew." "It was her. I'd sit at home on Sunday afternoons having long wistful thoughts about how I'd go to New York, take her for dinner."
All relationships thrive on good communication and trust, but long-distance relationships seem to demand them daily. These two were working with 3,500 miles, but the couple said they had many moments that led to this Valentine's Day. Like the time James told her he loved her in a Brooklyn nightclub at 4 a.m. The couple had their share of struggles too.
Tearful goodbyes at airports, long video calls over Skype, and the negative opinions of concerned friends seem to be the hallmarks of most long-distance relationships. I should know having had three separate stretches of long-distance during my current relationship, which has lasted more than six years and included various cities like Chicago, Miami, Orlando, and Seattle. I've carried my computer around countless times searching for a full signal while cursing into Skype just for a quick conversation with my beau.
"My hairdresser, who is also a philosophy graduate, told me it was a mistake," Katie said.
This also happened to me. Long-distance relationships aren't for everyone. Neither are public proposals.
Unique proposals are definitely trendy now. Thanks to YouTube, the pressure is on to make what is already a romantic gesture an event. There isn't anything wrong with getting creative, but it is important that the person proposing know what their significant other would prefer. Several of my girlfriends claim they would say no immediately if they were asked in a public place or if the gesture involved several people. Other women I've known demanded elaborate proposals at a public place, like a theme park, and essentially gave their grooms a list of people they expected to be in attendance.
However it happens is fine. Just make sure that you're both happy because it is equally important not to expect an elaborate affair from the person doing the asking if that isn't part of their personality. My fiancé, while funny and charming, is a private person and hates the idea of a public proposal. So I wasn't entirely surprised he asked me to marry him one morning when I first woke up and before I had the chance to brush my teeth. Like couples, romance comes in many forms.
For Katie and James, their long-distance relationship worked and she eventually took the leap of faith and headed back to England — she grew up in Shropshire — to live with James in 2014. They are renovating a new home in south London.
"It turned out that New York was just a place. I wanted to be with James."
And now they are celebrating their engagement.
The couple celebrated the holiday in a countryside hotel but were kind enough to share their happy news with The Observer, who shared it with the world.
The brave show of affection on the cover of a magazine on Valentine's Day ended up being the perfect proposal for this couple.
This article was originally published on