Video Shows Young Man Punching 61-Year-Old Protester Outside Trump Rally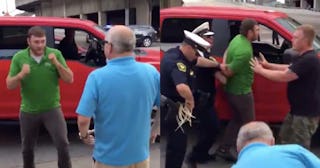 Twitter
Young man punches 61-year-old Trump protester in the face repeatedly outside the president's Cincinnati rally
Last night, President Trump held one of his campaign rallies in Cincinnati, Ohio and while his claims during his speech that he was going to cure AIDS and cancer were absurd on their own, something more sinister that went down during the event is now grabbing headlines. A young man, apparently a fan of the president, hauled off and punched an anti-Trump protester in the face before the rally began.
The man on the receiving end of the punches was more than twice the attacker's age.
Journalist Sarah Walsh shared the footage on Twitter and fair warning — it's pretty upsetting to watch.
Walsh explained that the man being punched is Mike Alter, a 61-year-old postal worker who was at US Bank Arena to protest Trump before his rally began. It was his first time protesting. That's when Dallas Frazier, age 29, showed up and "started swinging."
Frazier was arrested immediately in the aftermath of the attack and charged with assault, according to Hamilton County Jail records.
The attack happened before Trump's rally was set to begin, and shows Frazier hopping from his red pickup truck and going after Alter for seemingly no reason at all. He viciously went at a man old enough to be his father for the simple fact that he was there protesting Trump.
Frazier is seen sort of sizing Alter up before the attack and is heard asking, "You want some?" before slugging him repeatedly in the face, making his sunglasses fall off. Shortly afterward, officers arrested Frazier with protesters shouting "lock him up" as he was led away in plastic handcuffs.
Alter told WCPO News that he was part of a peaceful group of protesters before Frazier got violent with him. "These guys pulled up in the pickup truck, everyone was yelling back and forth at them," Alter explained. He was seen gesturing to Frazier as well, but Alter says, "I was more questioning him" than trying to provoke him, he tells WCPO. "Like really you want to fight?"
That's when Frazier launched his attack. "(I thought,) 'What the hell?'" Alter said. "He started just whaling on my head. I didn't go down, for what that's worth."
Trump went on that night to attack Democratic politicians including the four female Congresswomen of color he's been repeatedly lobbing insults at and telling to "go back" to their countries on Twitter for the last few weeks.
A judge issued a $10,000 bond for Frazier on Friday at Hamilton County court.