This Man Rescuing A Rabbit From The California Fires Is The Hero We Need
by Christina Marfice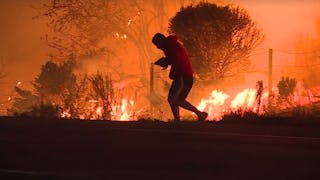 Image via KRON 4 News / Facebook
Even in unspeakable tragedy, faith in humanity can be restored
As Californians are working through the utter devastation caused by this year's wildfires that continue to rage on in Los Angeles and the surrounding areas, we need good news out of that area more than ever.
An unidentified man in a viral video from the fires is here to provide it.
According to CNN, more than 100,000 acres have burned so far in the current fires, and a video taken on a stretch of Ventura County highway shows just what a hellscape the area is right now, with flames raging right up to the sides of the road. The video also shows a man in shorts and a hoodie running toward the flames instead of away from them.
For a second, it's not clear what the hell he's doing. And then we see it. A tiny wild rabbit races past him and into some fire-engulfed bushes.
The man gives chase. At one point, it looks like he's given up as he stands on the side of the road, hands on his head, looking hopeless. He paces anxiously — while we watch anxiously.
And then the rabbit runs back toward him.
With a little coaxing, the man manages to grab the terrified little bunny, scoop it into his arms and walk back toward the road.
The clip isn't even 30 seconds long, but it'll make you feel all the feels.
Even though the man hasn't been identified, people on social media are heralding him as a hero, because obviously.
You didn't know you needed a hero today, yet here he is. And this is the one good thing that comes out of unspeakable tragedies like these fires: People rise up. They take care of each other. They do good things. They remind us that, deep down, almost everyone is truly good at heart, making sure to protect even the tiniest of beings.
Now we just need to know who this guy is so he can get the recognition he truly deserves. Internet, do your thing and find him.