Manager Fires Mom For Missing Work While Her Son's On Life Support
by Thea Glassman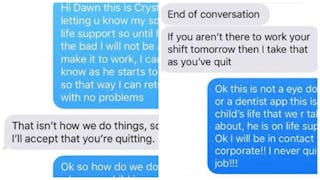 Image via Facebook/Crystal Reynolds Fisher
A viral Facebook post shows a mom being fired while her son was on life support
Today in completely repulsive news, a manager tried to fire her employee for taking time off while her son was on life support. Crystal Reynolds Fisher, who works at PS Food Mart gas station in Michigan, took to Facebook to share a string of awful texts she received from her boss. The whole exchange is completely heartbreaking.
Fisher texted her boss – identified in the messages as Dawn – 48 hours in advance to inform her that she'd be missing work.
"I'm just letting you know that my son is still on life support so until he is out of the [bed] I will not be able to make it to work," she wrote. "I can let you know as soon as he starts to get better so I can return to work with no problems."
Dawn replied that she would take Fisher's absence as quitting. When Fisher pushed back, her boss simply replied: "If you can't come to work that's quitting."
Fisher tried to explain — over and over again – that she wasn't trying to leave her job. She also reminded her boss that her son's life was on the line. Dawn responded that there was "no reason" she couldn't work.
"I will not tolerate drama," she wrote. "End of conversation. If you aren't there to work your shift tomorrow then I take that as you've quit."
Are you currently staring at the screen with complete horror and disgust yet?
As if that wasn't bad enough, Fisher's boss then proceeded to say that if her child was on life support she would be at work.
"I still have bills to pay and something to keep me busy and occupied," she texted. "We don't come and go as we please at Fork Oil."
Yup. You can't make this stuff up.
Fisher's post quickly went viral, and thankfully PS Food Mart took notice. The company took to Facebook to announce that Dawn had been fired.
"We investigated and have found that the situation was handled improperly and without the compassion that we value as a company. For that, we are very sorry," they wrote. "As a result of this finding, we took quick action and that manager is no longer employed by PS Food Mart. We have also reaffirmed to our employee that she will be able to take all the time off that she needs during this difficult period."
WWMT Michigan reached out to Dawn for comment but reported that she "had nothing to say." Fisher, meanwhile, had only one message to pass on to her former boss.
"I pray for you, I pray for you," she told WWMT. "That's all I can say."
This article was originally published on