Mandy Moore Reveals The Sweet Meaning Behind Her Baby's Name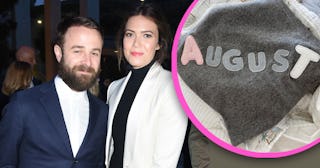 Vivien Killilea/Getty and Mandy Moore/Instagram
Mandy Moore shared that her son August's name has a deeply personal meaning to her and her husband
Earlier this week, Mandy Moore and her husband Taylor Goldsmith welcomed their baby boy August Harrison Goldsmith to the world via adorable Instagram post. Now, the singer and This Is Us actress is sharing the meaningful inspiration behind August's name.
She shared a photo of her son sleeping with a small grey blanket with his name embroidered across it, and said August was the month she and husband Taylor Goldsmith found out they were having a son.
"It was last August when @taylordawesgoldsmith and I found out we were having a boy (it's also Taylor's birth month) and we always loved the name… so it was settled very early on in our book," she captioned the photo.
Moore says it was Goldsmith who gave her the blanket for their anniversary.
The blanket, it turns out, was a gift from Goldsmith for the couple's anniversary and holds even more sentimental value.
"Then for our anniversary in November, T gifted me with this blanket with the "A" (for Amanda) made from extra material from my wedding dress and "T" (for Taylor) from his wedding shirt," she wrote. "Felt like a very fitting amalgamation of our whole story. I can't wait to pass this on to our sweet August one day."
Are you melting? Because that is one incredibly sweet story. Also, raise your hand if you totally forgot "Mandy" was short for "Amanda."
The couple announced the baby's arrival on Instagram on Tuesday, sharing that his full name is August Harrison Goldsmith.
"Gus is here 💙💙💙💙. Our sweet boy, August Harrison Goldsmith," Moore wrote. "He was punctual and arrived right on his due date, much to the delight of his parents. We were prepared to fall in love in all sorts of brand new ways, but it goes beyond anything we could have ever imagined."
Moore announced her pregnancy news back in September 2020 and told Romper how happy she was when she first learned she was pregnant after struggling with infertility prior to conceiving August.
"The little things kind of get me. Like, I was online buying pacifiers yesterday and I just turned to my husband and I was like, It's real. There's going to be a little human that needs a pacifier," Moore said.
Back in February, Moore shared that her original birth plan had to be altered when her "platelets dropped exponentially during pregnancy." She said she was planning for a home birth and was so excited about it, with her husband readying the playlist, but "unfortunately my plans have had to change."
How wonderful that August was delivered safe and healthy and with such a special name to boot.