Many Students Lack Access To Basic Necessities -- And This Is What Schools Are Doing About It
by Rachel Garlinghouse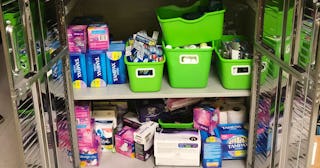 Courtesy of Sarah Helms from Horace Maynard Middle School
I grew up in a low-income community, one that now offers free lunch to all students. I distinctly recall my fourth grade Halloween celebration when the "haves" and "have nots" became quite apparent. I was getting dolled up in my homemade star costume, created by my mom, surrounded by my super-excited peers. As I pulled the foiled, bedazzled cardboard over my head, I observed one of my classmates standing in the corner of the bathroom, her eyes fixed on the floor and her cheeks flushed pink.
This was a student who came to school every day with her hair a bit unkempt. Her clothes were always rumpled and stained. Her once-white sneakers were ripping at the seams and stretched over her growing feet.
I went over to her and asked why she wasn't changing into her costume. She whispered to me that she didn't have one.
As you can imagine, the Halloween party was a big deal, one we'd talked about since the beginning of the school year. On party day, everyone wore their costumes and paraded around the playground, parents and teachers standing behind us cheering and snapping pictures with their massive Canon cameras.
After the parade, we'd head inside for games and excessive amounts of sugar and processed foods. Of course, we wore our costumes for the duration of the party and on the bus ride home, relishing in the joy of being someone or something else for a few hours.
I assured her that it was OK, and I would help her. I remember her eyes were brimming with tears. I rushed to the school's lost and found box, pulling a few pieces out.
Then I borrowed some makeup from another student, applying dramatic purple shadow to her lids. I pulled her hair up into a side pony, pulled the oversized tee shirt over her shoulders, and then declared that she was a rock star.
I'll never forget the happiness on her face. She went from being obviously excluded from one of the most important school days of the year to included in the festivities.
The reason she didn't have a costume, is the same reason some of my peers came to school having not showered the night before or didn't have their homework done — lack of basic necessities. Some of my peers didn't have running water to bathe in or electricity to turn on lamps. Studying spelling words after the sun went down just wasn't possible.
I knew girls who went bra-less, instead wearing two shirts to try to support and conceal their breasts. One family of six kids we dropped off on our bus route home lived between two trailers, one of which barely had a roof. They were always hungry.
A Halloween costume, a bra, or a pair of shoes, even the cheapest ones, were luxuries. And it's horrifying how much times have not changed. In fact, 43% of children live in low-income families according to National Center for Children in Poverty.
My educator friends have shared with me that there are numerous students in need of the basic essentials, including toothbrushes, toothpaste, deodorant, feminine care products, razors, and combs. Some also need underwear, socks, shoes, and coats.
They've educated me on the fact that it's very hard for a student to learn when his or her basic needs aren't meant. If the child is embarrassed by personal lack of cleanliness, if the student is hungry, or if the student doesn't have access to appropriate clothing, the student understandably struggles to meet academic expectations.
Some assume it's negligence or lazy parents who refuse to provide for their kids. But the truth is, many Americans live paycheck-to-paycheck. Known as the working poor, even with minimum-wage raises and more job availability, families are struggling.
Many students show up to school ill-prepared for the day, while some skip school entirely due to embarrassment. Some older siblings sacrifice their basic needs, including food, giving them to younger siblings.
To meet these needs, some schools and educators are working to help their students by creating stock-piles of products for their students. And if you think about it, it makes sense. Because even meeting the basic needs of children is incredibly expensive.
For example, a store-brand box of tampons runs about $5, with maxi pads running about $4 a box. The least-expensive toothbrush cost $1. A multi-pack of socks? That costs $8-$10 for the cheapest brand. And in places that are referred to as "food deserts," where people are forced to shop at convenience stores, the prices for groceries, toiletries, and clothing are steeper than bigger, well-known stores.
Even with smart shopping, meeting a student's basic hygiene and clothing needs can be costly. If families can't afford food, they truly cannot afford to buy tubes of toothpaste, jackets, and shoes. Thus, the teacher-run closets are critical. The stockpiles can immediately provide students with essential basics.
Yes, there are programs and charities that families can turn to, but they aren't always stocked. And sometimes the application process takes weeks, if not months, to work through. The red tape is disheartening and embarrassing for the child who can't even brush his or her teeth before spending a day at school.
Bremen High School in Midlothian, Illinois recently established a micro-pantry in a discreet corner of their library. The micro-pantry holds non-perishable food and toiletries, free to students, and various student organizations take turns managing the pantry. Bremen's pantry is one of thirty-nine in the area, donated by a local businessman.
Horace Maynard Middle School teacher Sarah Helms noticed some of her students' poor hygiene and took action. She created a designated space in her classroom, a metal cabinet, where she stocks shampoo, feminine care products, and body care items such as shaving cream. The items, and money to buy more, are donated by parents and teachers.
Colleges are realizing their students' needs, too, and doing something about it. Rider University in New Jersey created the appropriately named Rider Pantry. The pantry offers its students clothing and toiletries, as well as food, thanks to the donation of a freezer. The pantry is stocked by donations and recently received a $5,000 grant.
I think back to my own childhood and the poverty that ran deep and vast in my community. I will never forget the girl without the Halloween costume, and I know that a simple classroom or school pantry could have been life-changing for her.
She wouldn't have been as socially ostracized. She wouldn't have been hungry while trying to learn to write in cursive or practice long division. She could have shaved her legs when some of the rest of us did. She could have owned a bra.
What educators are doing for their students isn't just kind and inclusive. It's necessary. It's important. And it teaches kids that they aren't just a test score or another peer in a crowd.
Students are loved and cared for in the most basic ways that make the biggest difference.