Bad-Ass Mom Breastfeeds Her Baby While Walking Sports Illustrated Runway
by Valerie Williams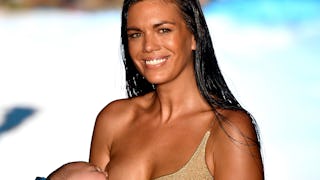 Image via Frazer Harrison/Getty Images for Sports Illustrated
Mara Martin breastfed her five-month-old daughter while walking the runway — like a total boss
Model and mom Mara Martin is being praised for walking the runway at the Sports Illustrated Swim Search in a smokin' hot gold bikini — while breastfeeding her five-month-old daughter.
*stands and applauds*
The best part of this story is that Martin is legit stunned that she's making headlines "for doing something I do every day."
https://www.instagram.com/p/BlRqGryH_Mi/?utm_source=ig_embed
Look. At. Her.
Sports Illustrated posted the footage of Martin feeding her daughter while walking the runway on their Instagram page including the phrase "GIRL POWER" in their caption. Damn right.
Martin, though surprised at the attention, is thrilled to use the moment to help further the conversation about breastfeeding. "It is truly so humbling and unreal to say the least. I'm so grateful to be able to share this message and hopefully normalize breastfeeding and also show others that women CAN DO IT ALL!" she wrote in an Instagram post.
She says the story is that it shouldn't even be a story that an infant needed feeding and her mom made it happen. "My story of being a mother and feeding her while walking is just that," she writes. Martin also called out other women who walked the runway that night and their own amazing accomplishments. "One woman is going to boot camp in two weeks to serve our country (sorry i don't know your IG handle 🤦🏽‍♀️), one woman had a mastectomy (@allynrose), and another is a cancer survivor, 2x paralympic gold medalist, as well as a mother herself (@bren_hucks you rock) Those are the stories that our world should be discussing!"
Also, it wasn't lost on Martin what a moment like this can mean for her daughter. "THANK YOU for letting all 16 of us be our true selves, strong beautiful women!!! Because of you, my daughter is going to grow up in a better world, where she will always feel this way!"
Twitter was full of praise for Martin.
As we've seen time and again, no matter how natural breastfeeding truly is, there are plenty of people who think it needs to stay behind closed doors and remain undiscussed. Fortunately, there are moms like Martin who have no qualms putting it front and center where hopefully, some will see it and recognize that it's seriously no big deal.
Like she said, this shouldn't even be a story.