Runner Adopts Stray Dog Who Ran 77 Miles With Him During Extreme Marathon
by Jerriann Sullivan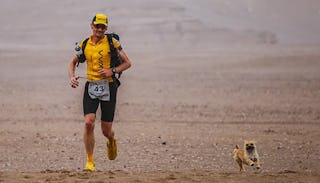 The stray dog began following the runner — and never stopped
An extreme marathon runner is adopting a stray dog who ran 77 miles with him through some pretty intimidating conditions. The dog began following the runner– and just didn't stop. The runner shared food, water, and sleeping space with his new friend. After completing the race together, the Scottish man is now trying to adopt the adorable pup.
The pair crossed deserts and rivers while participating in the 2016 Gobi March 4 Deserts. The seven-day run covers 155 miles in China's Gobi desert. The stray dog joined runner Dion Leonard on the second day of the race. The bonding experience was so memorable that Leonard couldn't just leave his new friend, now named Gobi, behind.
So he started "Bring Gobi Home" on Crowdfunder to help raise the cash needed to bring the determined gal to his home in Edinburgh, Scotland. Between medical and quarantine expenses the pair needed to raise about $6,535 for the adoption process. Due to Gobi's unbelievable cuteness and tenacious personality the fundraiser was a massive success and brought in almost three times the original goal. The extra funds will be donated to dog shelters to help other pups who are still searching for their forever homes.
"Everyone from the competitors, volunteers, and race crew fell in love with this little dog that captured all our hearts," Leonard wrote on the fundraising page. It's kind of shocking the little gal made it through such an intense race. She's so small it's much easier to picture her lounging around all day. "For such a small dog, she had a massive heart," he told the BBC.
"We developed an unbreakable bond," Leonard shared. To make sure Gobi made it the finish line after running through the Tian Shan Mountains he shared his water, food, and sleeping space. "I knew then this was no ordinary dog and experience." The heat was so extreme that the small dog rested on the last days of the marathon but was waiting for new best friend so the pair could cross the finish line together.
Just look at the joy on both of their faces. "It was an amazing experience to run into the finish line with her," he told CNN, adding that his wife said, "'It's the only time I've ever seen you smile at the end of a race.'" Gobi's still in China as the adoption process continues, which can take up to four months between medical clearances and government bureaucracy. She's staying with a friend while they wait. The Leonards are hoping the newest member of the family will be home by Christmas.
Best. Gift. Ever.
This article was originally published on