'Bridgerton' Hair & Makeup Artist Marc Pilcher Dies Of COVID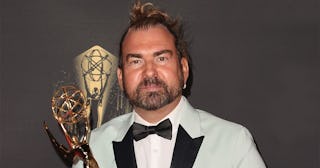 Kevin Winter/Getty
He'd just won an Emmy two weeks ago for his work on 'Bridgerton'
Emmy-winning Department Head Hairstylist for Bridgerton Marc Pilcher has died of COVID-19, his coworker announced on Twitter. His death comes just two weeks after he won an Emmy for his work on the show.
"It is with the deepest of hearts we confirm that Marc Elliot Pilcher, Academy Award nominee and Emmy Award winning hair and makeup designer/stylist, passed away after a battle with COVID-19 on Sunday 3rd October 2021," said Pilcher's representatives at Curtis Brown in a statement obtained by Deadline, adding, "He was 53, double vaccinated with no underlying health condition."
Series star Nicola Coughlan, who plays Penelope Featherington on the show, announced Monday on Twitter that her friend had passed away. "So heartbroken by the loss of Marc Pilcher, the brilliant and visionary Hair and Makeup designer for Bridgerton Season One," Coughlan wrote. "Marc was so passionate about his work and so tremendously talented. Not even a month ago he won his first Emmy award."
Pilcher and his team had just won the Emmy for 'Exceptional Period Hairstyling' for their work on Bridgerton Season 1. Prior to his work on the show, Pilcher is also widely known for his work on Downton Abbey (2019), Mary Queen of Scots (2018) and Beauty and the Beast (2017). According to his Instagram, he was a graduate of The London College of Fashion.
"It's a tragedy that he's been taken so young when he had so much yet to do," the actress continued on Twitter. "Please also use this as a reminder that Covid is still a very real and present danger, please get vaccinated and mask up to protect yourself and others."
Coughlan concluded, "My heart goes out to his friends and family, especially to his wonderful team Lynda [J. Pearce], Lou [Bannell], Adam [James Phillips], Hollie [Williams], Tanya [Couper] and Claire [Matthews]. He loved and cared for you all so much and my heart goes out to you all. Rest in Peace Marc."
Lynda J. Pearce, assistant head hairstylist on Bridgerton, also paid tribute to Pilcher's life on social media, writing on Instagram: "Rest in peace my dear friend. I will love you forever and I will hold you safely in my heart always."
To date, there have been over 701,000 deaths in the US from COVID-19 and nearly 44 million cases, according to The New York Times database. Overall, about 214.3 million people, or 64.6% of the total U.S. population, have received at least one dose of vaccine, according to the CDC as the deadly Delta variant continues throughout the country.
In his final social media posts, Pilcher said he was "so excited and still flying for winning" the Emmy. It is a sad and tragic loss of someone in the prime of their career being taken too soon.
This article was originally published on