You Can Now Find The 'March For Our Lives' Event Closest To You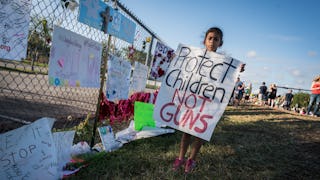 Image via Giles Clarke/Getty Images
The March for Our Lives website has added a handy new search feature
The March for Our Lives, organized by students in the wake of the Marjory Stoneman Douglas school shooting, is happening March 24th in both Washington, D.C. and in local marches around the country. When the event was first announced, there wasn't a feature on their website letting people search for the march closest to them — but there is now.
Emma González is one of many MSD survivors who have quickly risen to activist status in the days since the horrifying shooting that took 17 lives, including several students. These kids have mobilized and made things happen in impressively short order, with the March for Our Lives happening barely a month after the tragedy in Parkland. Today, González tweeted the exciting news that the event's website now includes a feature to search by zip code or city for the local march closest to you.
"Can't make it to DC on March 24? You can now see if there's a march in your area – and if not, create your own & check out the toolkit!" she writes. So if you don't have a march anywhere near you, the site provides information to start one up. It's truly mind-blowing how fast these kids were able to get this going and speaks volumes about the momentum behind the movement.
When you search, the results will show any marches close to you and not only tells you where and what time it's being held, but gives any details the local organizers have provided. There's also a map proving that this is basically spreading like wildfire, and if looking at this map full of marches doesn't lit you up inside, then I don't know what to tell you.
Because this is incredible.
"People are saying that it's not time to talk about gun control. And we can respect that, (but) here's a time: March 24 in every single city," MSD student Cameron Kasky, a 17-year-old organizer of the March For Our Lives, said on ABC News' This Week announcing the march. "We are going to be marching together as students begging for our lives."
The March's mission statement reads, "Not one more. We cannot allow one more child to be shot at school. We cannot allow one more teacher to make a choice to jump in front of a firing assault rifle to save the lives of students. We cannot allow one more family to wait for a call or text that never comes. Our schools are unsafe. Our children and teachers are dying. We must make it our top priority to save these lives."
It's hard to believe the right to live through the school day is something we have to fight for in 2018, but thankfully, we have these brilliant teens leading the charge.