Scenes From Today's March For Our Lives Will Make You Feel So Hopeful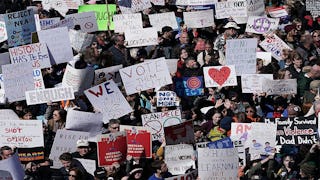 Image via Alex Wong/Twitter
March for Our Lives rallies are being held all over the country today — and the turn out has been incredible
Tens of thousands of people are participating in March for Our Lives rallies throughout the country, and the pictures will make you want to weep with hope. The marches — which push for comprehensive gun control — were started by a group of students who survived the recent tragic mass shooting at Stoneman Douglas High School. Together, they're pushing Congress hard for actual, concrete change, and it is so gratifying to see the rest of America step up to join them.
Students, teachers, and everyday citizens came together, signs in hand, to march, chant, and let their voices be heard. The view from all the gatherings is pretty spectacular. Seriously, just look at those crowds. Can we give a giant "amen" for the strong-willed kids who single-handedly put this together?
The marches stretched across the country — from the small town of Roxbury, Connecticut to the streets of Fort Worth, Texas.
Some traveled a long, long way just so they could march on Capitol Hill. So, so many hats to the people who literally drove ten hours to get to D.C.
A few more hats off to the tiniest activists who showed up and rallied for change.
Also, all the signs will completely shatter your heart.
To add even more hope and solidarity on top of all this, sister marches are being held in London and Edinburgh — making March for Our Lives officially a worldwide event.
Event organizer and school shooting survivor Cameron Kasky took to the microphone during the Washington D.C. rally and explained the importance of gun control. He also had a very stern warning for Congress members.
"Shooting after shooting, the American people now see one thing they all have in common: the weapons," he said. "Politicians, either represent the people or get out. The people demand a law banning the sale of assault weapons. The people demand that we prohibit the sale of high-capacity magazines. The people demand universal background checks. Stand for us or beware, the voters are coming."
Here's hoping that those in power listen to this massive public outrage and we'll start seeing actual gun reform laws soon. If not, they'll have hundred of thousands of very angry teenagers to reckon with.