Photos From 'March For Our Lives' Rallies In Small Towns Will Inspire You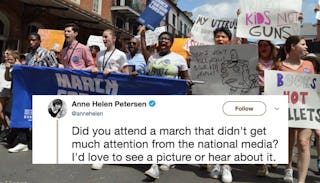 Image via Twitter/Arianne Pollaert/Anne Helen Peterson
March for Our Lives rallies popped up all across small towns
This weekend, hundreds of thousands of people came together during the March for Our Lives rallies, which pushed for comprehensive gun reform. You'll see a lot of pictures taken of the staggering crowds throughout big cities across the country (seriously, it's incredible), but the snapshots of small-town rallies will completely capture your heart.
From Laramie, Wyoming to Ashland, Ohio, citizens took to the streets and made their voices heard — even when it wasn't the most popular move to do so.
After the rallies started wrapping up, Buzzfeed culture writer Anne Helen Petersen took to Twitter and asked for photos of marches that hadn't made it onto television.
"Did you attend a march that didn't get much attention from the national media?" she wrote. "I'd love to see a picture or hear about it."
Well, ask and you shall receive. Petersen was flooded with pictures that ranged from one person rallies to a bustling 2,000. Also, have to give a massive shout-out to the people of Idaho, who marched through what looked like some very chilly snow and rain.
Annnnd the people of Brunswick, Maine for marching through 4 inches of snow.
Then there were the 100 people who showed up to a march in Great Falls, New Jersey — even though the rally hadn't even been planned until earlier that week.
In some towns and small cities, the featured speakers were local high school students, which is just about the best thing I've heard all day.
Most heartening, perhaps, was the turn-out in extremely conservative areas, including Wyoming which is known as one of the most heavily-armed states in America. Oh yeah, and also Potsdam, New York, where one Twitter user said confederate flags are abundant. Then there was a turn-out of 30,000 in Lewiston, Idaho, where protest is a big no-no and kids regularly uses rifles for hunting.
Is your heart starting to lift? Just a little bit?
Teenagers and adults took to the streets of New Orleans, a city that should get more coverage than it does when it comes to movements like this.
Now, let's all give a big, BIG round of applause to this young woman, who held her own one person rally, while the rest of her classmates took pictures for prom.
https://twitter.com/jetpack/status/977754744952360960
Here's to feeling so much hope after these rallies and a big thanks to marchers who participated.