Mariah Carey Proves She's Aware Of Her Christmas Queen Status In Hilarious Video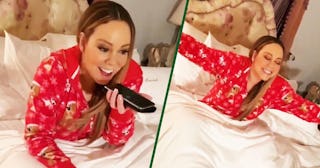 Mariah Carey/Twitter
It's the day after Halloween, which means that the season of Mariah Carey has officially begun
Mrs. Claus, who? Everyone knows that Mariah Carey is the reigning queen of Christmas... including Mariah Carey herself. The divalicious singer, who has been belting out holiday hits for over 25 years now, poked fun at her royal holiday status on November 1 (yes, just a day after Halloween, because isn't that when the holiday season really kicks off?) with a totally hilarious video — and the internet is loving her for it.
"Breaking news," Mariah captioned the oh-so-very clever video that begins with her in bed wearing her Halloween costume, lots of makeup, and glamorously yawning, with her iPhone letting us know that it is 11:59 pm on October 31.
Then, the clock strikes midnight (aka November 1) and all of a sudden, the opening notes from her iconic holiday hit "All I Want for Christmas Is You" start playing in the background. Then, Santa calls. Mariah, now wearing Christmas jammies, looking refreshed and revived, (where did all her eye makeup go?) picks up.
"Santa?" she asks.
"Ho, ho, ho," he responds.
"It's tiiiime," she sings back to him, before yelling in excitement and tossing the phone on her bed, with her Christmas song continuing to play in the background.
You kill us, girl.
The GIFs and comments that followed were absolutely priceless.
One hilarious individual accused Mariah of trying to "elbow out Jesus Christ as the protagonist of Christmas."
Another was super curious, just like us, how Mariah managed to wake up looking so flawless after going to bed caked up with makeup.
So many just shared their excitement.
https://twitter.com/jetpack/status/1190170805323341825
Because she loves us, she also shared some never-before-seen footage from the video.
So just how huge of a hit is "All I Want For Christmas Is You" anyway? According to The Economist, the song has earned her $60 million dollars. The Independent claims that every year she pockets $500,000 in the UK alone.
On Friday, Legacy Recordings released Carey's "Merry Christmas 25th Anniversary Deluxe Edition." It includes the original album, plus a disc featuring previously unreleased live tracks, a few rare remixes, a new rendition of the "Sugar Plum Fairy" and additional seasonal tracks.
Because we love Mariah, and are going to start blasting "All I Want for Christmas Is You" right now, we are going to share the who amazing video with you. Merry Christmas!
This article was originally published on