Mariah Carey Hilariously Nails The #FantasyChallenge On TikTok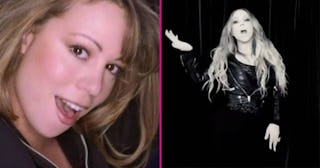 Mariah Carey/Youtube/TikTok
Mariah Carey lip-synchs to her hit song "Fantasy" as part of the latest viral challenge on TikTok
Over the last year, TikTok has become a social phenomenon ⁠— as well as a whole new bone of contention for parents. From launching the career of Lil Nas X to creating and promoting the success of everyone from Travis Scott to Billie Eilish, the Chinese-owned social media site has infiltrated pop culture in the most infectious way. In addition to promoting new music, users often create challenges, resurrecting some of our favorite hits and encouraging other users to share their lip-synching slash dancing routines. (Even Reese Witherspoon is in on it after learning about it from her teenage son.) It is all sorts of entertaining, considering you can find babies dancing to "Old Town Road" and senior citizens rapping to Drake. Well, this week, a viral challenge called the #FantasyChallenge has been sweeping the site, devoted to the unofficial Queen of Christmas, Mariah Carey. And apparently Carey, herself, is up for any challenge because she decided to join in on the fun and share her own take on the classic tune.
Clad in all black and looking fierce in a motorcycle jacket and sky-high stiletto boots, Carey showed off her moves ⁠— which seriously haven't slowed down over the last couple decades ⁠— in front of a black velvet curtain, her lips singing along to the words of her 1995 hit, "Fantasy." She seriously got into it, judging from her amazing facial expressions.
"Just for laughs," she captioned the TikTok video, sharing it to her Instagram and Twitter accounts as well.
According to one fan, the challenge was first offered up in December 2018, but recently started trending.
There are so many amazing #FantasyChallenge videos being shared to social media, featuring everyone from dudes to diaper-wearing fans.
While there are so many amazing renditions, people were pretty unanimous that Carey was the crowned winner of the challenge.
ICYDK, Carey sparkles all year long, but between Nov. 1 and Dec. 25, she serious shines. Since releasing her iconic Christmas album 25 years ago, every holiday season, she dominates the airwaves in true diva fashion. And this year, she poked fun at her Christmas queen status, sharing a super-funny video on social media.
"Breaking news," Carey captioned the video, which shows her in bed going to sleep in her Halloween costume on Oct. 31. At midnight, "All I Want for Christmas Is You" starts playing in the background. Then, Santa calls. Carey, now wearing Christmas jammies, looking refreshed and revived, picks up the phone.
"Santa?" she asks.
"Ho, ho, ho," he responds.
"It's time!" she yells in excitement.
This year marks the 25th anniversary of her hit "Merry Christmas" album. In honor of the milestone, Legacy Recordings has released Carey's Merry Christmas 25th Anniversary Deluxe Edition. It includes the original album, plus a disc featuring previously unreleased live tracks, a few rare remixes, a new rendition of the "Sugar Plum Fairy," and additional seasonal tracks.
Basically, there is absolutely no way to avoid Carey for the next month-and-a-half.