Mariah Carey's 10 Year Challenge Post Is Your New Life Coach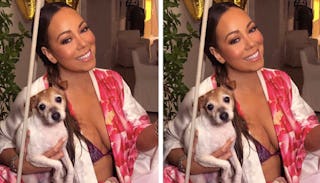 Image via Twitter/Mariah Carey
Mariah Carey had a very different approach to the whole ten year photo challenge
So, in case you've missed this latest trend, people have been taking to social media to post side-by-side pictures of themselves from 2019 and 2009. But not Mariah Carey. Nope. The singer/all-around D-I-V-A took a very different approach to the whole "10 year challenge." Because time does not TOUCH Mariah Carey. Prepare to giggle a lot.
Carey posted two of the same photos of herself, side by side. "I don't get this 10 year challenge, time is not something I acknowledge," she wrote in the accompanying caption. "*Picture taken at some point prior to today."
You hear that, time? You can step to other people but you cannot step to Mariah Carey.
Carey is really living her very best, ageless life and we should all probably follow in her steps immediately. No longer acknowledging time in 3..2…1…
Carey's fans were quick to applaud this refreshingly sassy take on the whole "10 year challenge" and also confirmed that the singer has not, in fact, aged at all.
This isn't the first time that Carey has informed the public that she has zero intention of keeping up with that whole pesky time thing. "I think I have to remain eternally oblivious to age," she told PEOPLE. "Honestly, when you put a number on it yourself, it's just like, Why? Why do that?"
No, seriously. Mariah Carey does not and will not entertain the idea of aging. When asked by a reporter about turning 46-years-old she responded: "I don't have a birthday. I was just dropped here. It was a fairyland experience."
And, I mean, based on the pictures below that seems pretty accurate:
Here's to all of us living our very best, fairy-like, timeless, ageless existences. Mariah knows you can do it.
This article was originally published on