Some People Skipped 4th Of July Fireworks To Comfort Scared Shelter Dogs
by Julie Scagell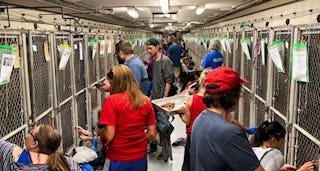 Maricopa County Animal Care & Control (MCACC)/Facebook/Jose Santiago
Dozens of volunteers showed up to snuggle with the pups during fireworks
For those of us with fur babies, the Fourth of July can be a tricky night. It's a night of fireworks, parades, and general noisiness and for pups who get a little (a lot) nervous when the decibel of anything goes above a whisper, it can be a nerve-wracking night for all involved. While many of us stay with our pups or turn music on to reduce anxiety, for the thousands of pets in shelters, it can be a scary event. One shelter in Arizona went out of their way to ensure their furry friends were well taken care of during the loud booms.
Maricopa County Animal Care and Control in Arizona hosted its annual "Calm the Canines" event where volunteers came in and sat with the pups while the festivities went on nearby. The pictures from the night will restore your faith in humanity.
"To the people who spent the 4th comforting our County's shelter dogs: the staff and volunteers want you to know we are in love with you all right now," they write. "We have never been more proud of our animal loving community. You ROCK! People from all walks of life showed up to our community shelters tonight to make life just a little better for the homeless dogs in our care."
"You are spectacular and we (and the dogs) are grateful," the shelter continued. "We hope to see you all on New Year's Eve. With gratitude, the shelter team."
According to the Humane Society, there were approximately six to eight million pets in shelters in the US as of 2014. During the Fourth of July holiday weekend, they report a dramatic increase in lost pets who run from the loud noises. In addition to keeping them indoors when you know there will be fireworks going off, the Humane Society also implores pet owners to tag or ID their animals so they can be safely returned if they do escape.
"This is our third CtC event," the shelter tells Scary Mommy. "We loved having so many visitors in our shelter! The dogs appreciated it as well."
"Pets are more sensitive to loud noises, flashing lights and strong smells, so on the Fourth of July (and other days people are likely to set off fireworks), it's best to leave your pets safely indoors, preferably with a radio or TV turned on to soften jarring noises," the Humane Society continued. "Even pets who are usually kept outdoors should be brought inside."
The fact that dozens of volunteers took time out of their holiday weekend to ensure these shelter dogs had a calm and stress-free night speaks volumes about them. Here's hoping more shelters will adopt this idea so all the fur babies of the world know they are not forgotten. Better yet, if you are able, adopt don't shop!