Celebrity Chef Mario Batali Accused Of Sexual Misconduct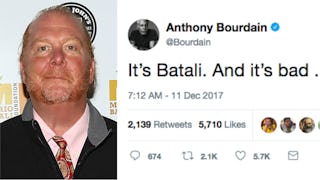 Image via Astrid Stawiarz/Getty Images / Twitter
Batali has apologized and stepped down from his restaurants after multiple accusations
Yet another famous and powerful man is facing sexual misconduct allegations that could topple his career. This time, it's famed restaurateur and host of ABC's The Chew, Mario Batali.
An Eater investigation released Monday uncovered allegations from four women, three of whom worked for Batali at some point in their careers. The allegations span decades, and Batali was reprimanded by his company, Batali & Bastianich Hospitality Group, for "inappropriate behavior" as recently as October.
While the allegations are shocking to many of Batali's fans, others in the restaurant industry apparently already knew of his behavior. Early Sunday, celebrity chef Anthony Bourdain was tweeting cryptically about bad news coming Monday, showing he knew the Eater story was coming.
Then on Monday, after the bombshell report dropped, Bourdain updated his fans, writing, "It's Batali. And it's bad."
Fellow celebrity chef Tom Colicchio brutally replied, "And no one should be surprised."
The allegations against Batali are just as horrifying as we've come to expect when news like this breaks.
One former employee claimed Batali would grab her from behind and hold her tightly against his own body. She says it happened repeatedly over the course of two years. Another former employee says that on two separate occasions he groped her and asked her to straddle him. A third former employee says that he grabbed her breasts at a party, though it was after she ended her employment with him. The fourth accusation comes from a woman who claims Batali was drunk at a wine auction when he asked her to come work for him. Then, she claims, someone bumped into her and caused her to spill wine down the front of her shirt, and she says Batali started to rub her breasts with his bare hands.
"Let me help you with that," she says he told her. "He just went to town, and I was so shocked. Jaw on the ground, I just stepped back from him in utter disgust and walked away."
When Batali was reprimanded in October, it was reportedly the first time anyone had made a formal complaint against him for sexual misconduct. Still, in a statement he released to Eater, Batali didn't deny any of the allegations.
"I apologize to the people I have mistreated and hurt. Although the identities of most of the individuals mentioned in these stories have not been revealed to me, much of the behavior described does, in fact, match up with ways I have acted," he said. "That behavior was wrong and there are no excuses. I take full responsibility and am deeply sorry for any pain, humiliation or discomfort I have caused to my peers, employees, customers, friends and family."
Batali's apology is surprisingly contrite, considering Eater also reported that he had a history of punishing people who called him out for his behavior. Also surprising was his announcement of his intent to take a leave of absence from his restaurants in light of the accusations.
"I have work to do to try to regain the trust of those I have hurt and disappointed. For this reason, I am going to step away from day-to-day operations of my businesses," he said. "We built these restaurants so that our guests could have fun and indulge, but I took that too far in my own behavior. I won't make that mistake again. I want any place I am associated with to feel comfortable and safe for the people who work or dine there."
Eater tweeted that ABC asked Batali to step back from his job on The Chew for now.
Colicchio has already called for a culture change in the restaurant industry, which he wrote for Nation's Restaurant News, "isn't just a matter of a few bad eggs." But what we're learning is that bad eggs are common in every industry. The good news is that we seem to have decided, as a society, that we're done putting up with it.